4 Movies Jimmy Fallon Hilariously Slammed During His Monologue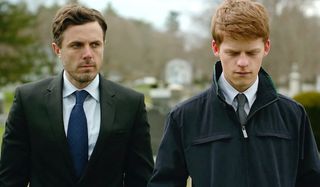 After a surprisingly cool opening that mixed twists on La La Land music with callbacks to the other Golden Globe-nominated movies and TV shows, Jimmy Fallon kicked off his monologue tonight, as his the traditional pattern with all these Golden Globe ceremonies. Due to some technical difficulties involving an uncooperative monitor, the transition wasn't that smooth, but after a few seconds, the host of The Tonight Show started to drop jokes.
Due to the monologue being shorter than usual, as well as incorporating material from the TV side of things, Jimmy Fallon didn't spend a lot of time in the realm of movies, but he still got a few digs in. Here are the four movies that he took shots at during the Golden Globes opening.
La La Land
Jimmy Fallon kicked off his movie chuckles by pointing out how Ryan Gosling played a jazz pianist in La La Land. However, he warned everyone watching in the audience at home that they shouldn't look up "Ryan Gosling pianist" online because it's an "HR nightmare." See, it's funny because...okay, I don't really need to explain it. Phallic humor aside, La La Land has been getting excellent buzz since it premiered last summer, and it has soared even higher since it was released in theaters a few weeks ago. Gosling plays Sebastian Wilder, who's trying his hardest to open a jazz club. Looking up Gosling's pianist skills may prove risky on Google, but it's definitely worth seeing him in this role if you haven't already.
Manchester By The Sea
Manchester By The Sea is one of the most critically acclaimed dramatic movie of 2016, but everyone who's seen it will likely agree that it's a depressing affair. So much so that Jimmy Fallon called it the only thing in 2016 that was more depressing than 2016 itself. Yep, 2016 was a real downer for multiple reasons, but movie-wise, Manchester By The Sea was definitely emotionally tough. Starring Casey Affleck as Lee Chandler, the movie followed Chandler as he looks after his nephew after the boy's father dies. So yeah, if you're having a bad day or are in a dream mood, don't turn to this movie if you're looking for something to brighten your spirits.
Batman V Superman: Dawn Of Justice
Sorry to those of you who love Batman v Superman: Dawn of Justice, but the movie still finds itself the target of jokes and jests. Jimmy Fallon pointed out how Matt Damon was in the room during the ceremony, and how The Martian star is best known for his "greatest acting role," which was telling Ben Affleck that he liked Batman v Superman, though the host then quickly assured viewers that he did like the movie. While Batman v Superman was critically successful last year, taking in over $870 million worldwide, it was met with a lot of negative reviews, ranging from the dark tone to the choppy story. The home media release of The Ultimate Edition helped change some minds, and Affleck's Batman been well received by many, but sadly for Warner Bros, Batman v Superman wasn't the success they hoped for. Now I'm legitimately wondering what Damon said to Affleck about the movie.
Florence Foster Jenkins
Florence Foster Jenkins followed the eponymous real life figure, a New York heiress (played by Meryl Streep) who managed to become an opera singer despite her lack of musical talent. Fast forward to 2016, Jimmy Fallon joked how despite her title as the world's worst opera singer, Jenkins turned down the opportunity to perform at soon-to-be President Donald Trump's inauguration. Considering all the other performers who are opting not to take part in the ceremony less than two weeks away, that's saying a lot! Florence Foster Jenkins also starred Hugh Grant, Simon Helberg and Rebecca Ferguson, and while the movie itself earned good reviews, we definitely hope that Streep doesn't have to sing that atrociously again in another project.
Your Daily Blend of Entertainment News
Connoisseur of Marvel, DC, Star Wars, John Wick, MonsterVerse and Doctor Who lore. He's aware he looks like Harry Potter and Clark Kent.
Your Daily Blend of Entertainment News
Thank you for signing up to CinemaBlend. You will receive a verification email shortly.
There was a problem. Please refresh the page and try again.