5 Movies That Were Waylaid By Controversy Just Before Release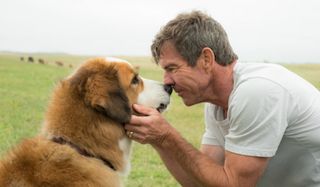 A Dog's Purpose's message of peace, love, and harmony between pets and their owners was undercut with the recently leaked release of one of its pooches being forced to swim against its will during production.
Ever since this footage emerged last week, the cast and crew connected with A Dog's Purpose have been on damage control. Its not expected to work, though, and box office experts are predicting that it will now struggle because of this controversy.
But A Dog's Purpose is far from the first film to have been waylaid by controversy just before its release. Here are five other movies that were dealt huge blows in the build-up to hitting cinemas, which they weren't able to recover from.
Fantastic Four
Josh Trank's attempted reboot of Marvel's most beloved foursome was in trouble from the very get-go. Some of the reasons were downright deplorable, as ridiculously over-protective fans took umbrage with the fact that Michael B. Jordan had been cast as Johnny Storm. But then it started to emerge that Trank and 20th Century Fox had clashed throughout its production. The studio was allegedly so dissatisfied with Josh Trank's version of the film that they ordered alterations without his supervision, and there were allegations that Trank behaved erratically on set. All of this reached a boiling point when just a day before Fantastic Four was released, and with the film having been savaged by critics, Trank took to Twitter to write, "A year ago I had a fantastic version of this. And it would've received great reviews. You'll probably never see it. That's reality though." The film bombed at the box office, Trank was subsequently kicked off a Star Wars anthology film, and now the Fantastic Four franchise is once again in limbo.
The Birth Of A Nation
This time last year it felt like the entire cinematic community was going crazy for The Birth Of A Nation, after it premiered at Sundance to rave reviews, won the Audience Award and Grand Jury Prize, and was bought up by Fox Searchlight Pictures for $17.5 million- which also just so happened to be the largest deal ever agreed at the festival. Given a release date of October 7, The Birth Of A Nation was expected to be in the 2017 Oscar conversation. But in August the 1999 rape charges against director, producer, writer, and star Nate Parker and co-writer Jean McGianni Celestin re-emerged, as did the revelation that the accuser had committed suicide in 2012. Parker was then criticized for his handling of questions relating to the case, while mainstream reviews for the film failed to match its acclaim at Sundance. The Birth Of A Nation ultimately just returned $16.5 million at the box office.
_The Interview _
The controversy surrounding the release of The Interview didn't just cause an international incident between North Korea and the United States, but it also led to the hacking of Sony Pictures Entertainment by the group Guardians Of Peace, who allegedly had ties to Kim Jong-Un's country. Why did The Interview cause such a hullaballoo? Because it featured the death of North Korean dictator Kim Jong-Un, while its entire plot revolved around two journalists played by Seth Rogen and James Franco trying to kill him. In the months leading up to The Interview's release it became plainly obvious that North Korea hadn't quite seen the funny side of the joke, as they asked President Obama to pull The Interview from release, and even described the depiction of Kim Jong-Un's assassination as "an act of war." Then Sony was hacked, and when the film's release date still wasn't pulled, The Guardians Of Peace threatened to attack screenings and its New York premiere. Scared by these threats, major theatre chains decide to cancel screenings, and Sony ultimately decided just to release it online and in select cities, all of which led them to lose around $30 million on the film.
Ender's Game
This is a controversy that those associated with Ender's Game really should have seen coming. Based on the 1985 book of the same name, Ender's Game had been in development for nearly 20 years by the time it was scheduled to hit cinemas. But its release date of November 1, 2013, was scuppered just a few months before when a boycott of Ender's Game was announced because of producer Orson Scott Card's views on same-sex marriage and homosexuality. Card has long criticized same-sex marriage, and was even a board member of the National Organization for Marriage, which campaigns against it. Card originally tried to quash the controversy himself, releasing a statement that said Ender's Game should be judged on its own merits, while producer Roberto Orci insisted he wasn't aware of Card's views and revealing that Card had minimal involvement in the film. But Ender's Game wasn't able to recover from this set-back, and the bad publicity, as well mixed reviews, saw it gross just $125.5 million from a budget of around $115 million.
Ghostbusters (2016)
Ghostbusters never really stood a chance. Die-hard fans of the franchise had been waiting over 25 years for a follow-up to the frankly disappointing Ghostbusters II, which is now looked at through rose-tinted glasses even though it's not a patch on the original. Ultimately the rebooted Ghostbusters wouldn't match the 1984 comedy classic, but it wasn't given a chance to. Because even before it had started production keyboard warriors were out in force trying to sabotage Ghostbusters. Despite the fact that Paul Feig was the most successful comedy director in modern cinema, Kristen Wiig and Melissa McCarthy were two of the most popular comedic actresses, and Kate McKinnon and Leslie Jones had been excelling on SNL for years, the mere announcement that Ghostbusters would have an all female cast provoked a ferocious backlash from misogynist nerds. The release of its trailer only caused more ire, as it became the most disliked trailer on YouTube, and the anti-feminist and misogynist attacks just wouldn't disappear as the film's release date grew closer. While the film achieved mostly positive reviews, it wasn't enough to save Ghostbusters, which returned just $229 million and was soon labelled a box office disappointment.
Your Daily Blend of Entertainment News
Your Daily Blend of Entertainment News
Thank you for signing up to CinemaBlend. You will receive a verification email shortly.
There was a problem. Please refresh the page and try again.