A Dog's Purpose Producers Respond To Controversy Over German Shepherd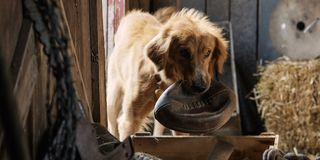 Earlier today, the upcoming family movie A Dog's Purpose found itself trapped in controversy. A video was uploaded online showing a German Shepherd from the movie's production being forcibly put into a pool of churning water despite clearly not wanting to go in. The subsequent outrage included PETA (People for the Ethical Treatment of Animals) calling for a boycott of A Dog's Purpose. Now the producers behind the movie have revealed that the dog is fine and have elaborated on what happened.
Speaking with TMZ, the outlet that originally broke the story, representatives from Amblin Entertainment said that the German Shepherd, named Hercules, had several days of rehearsal for the water scenes in A Dog's Purpose. They added:
It was also revealed that director Lasse Hallström called for a break while shooting that scene, and once they resumed, Hercules was reportedly okay with continuing. While Amblin Entertainment is still looking into the matter, the company made sure to note that Hercules "was NOT thrown into the water" and is "happy and healthy."
Even with this extra information regarding the A Dog's Purpose controversy, it doesn't make the original video (which was recorded in back in November 2015) any easier to watch. For those who haven't seen it, Hercules resisted going into the water, which was being churned with eight outboard motors to simulate a violent river. Eventually Hercules' handler grabbed him and forced him to go into the water. The video then cut to a more shocking moment where some of the crew members rushed to Hercules after it appeared the dog was panicking in the pool.
After the initial news broke, PETA released an official statement announcing their boycott of A Dog's Purpose, and shortly after, the American Humane Association member who was on set during that time was reportedly suspended. Whether Amblin Entertainment is being completely upfront and honest about this situation or they're doing their best at damage control, hopefully future movies will keep this whole affair in mind when there are certain intense scenes involving the use of dogs or other animals. Given how far CGI and animatronics have progressed, it's probably for the best not to use animals at all for these kind of shots.
Based on the 2010 novel of the same name, A Dog's Purpose follows a dog named Bailey (voiced by Josh Gad) across his multiple lifetimes, each time reincarnated in a different canine form. Eventually Bailey reunites with Ethan (played as an adult by Dennis Quaid), who owned the dog in his first life. The cast also includes Britt Robertson, Peggy Lipton and Juliet Rylance.
A Dog's Purpose will be released on January 27.
Connoisseur of Marvel, DC, Star Wars, John Wick, MonsterVerse and Doctor Who lore. He's aware he looks like Harry Potter and Clark Kent.
Your Daily Blend of Entertainment News
Thank you for signing up to CinemaBlend. You will receive a verification email shortly.
There was a problem. Please refresh the page and try again.