This Rotten Week: Predicting The Lego Batman Movie, Fifty Shades Darker And John Wick 2 Reviews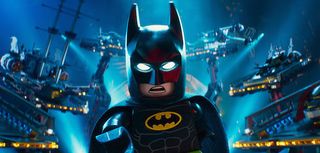 Super Bowl Sunday is a big day for Hollywood, as its a television event that features an epic number of trailers for upcoming blockbusters. Now that the national holiday has come to an end, however, let's talk about what's coming up this Friday. Get ready for The LEGO Batman Movie, John Wick: Chapter Two and Fifty Shades Darker. It's gonna be a Rotten Week!
Just remember, I'm not reviewing these movies, but rather predicting where they'll end up on the Tomatometer. Let's take a look at This Rotten Week has to offer.
Very simply, when an animated movie marketed as a kid's flick can also hit a total home run with the adults, then you have basically the perfect flick. This is what the Pixar folks have nailed time after time though with a slightly different, more humanistic touch. The LEGO Movies seem to be taking a slightly different approach with what appear to be fantastic results. The LEGO Movie had a sarcastic and dry humor bent most adults could instantly latch on to while the kids enjoy the spectacle, and it appears that Chris McKay's The LEGO Batman Movie is fun on the same level.
The original LEGO Movie (96%) crushed it with critics and now the beloved building blocks are back on the big screen with a solo Batman story - followng The Dark Knight as he navigates the world of fatherhood and lonliness. It looks fantastic and Little Rotten Week and I watched this trailer around ten times this morning. It's sitting in the 90% range right now and I doubt it moves much over the course of the week.
Keanu Reeves is a tough nut to crack in that it doesn't seem like his particular brand of "acting" should work time and time again. And yet here we are with him heading up another franchise in which his deadpan, emotionless demeanor somehow plays fantastically on the big screen. The dude is just a total outlier and now John Wick might be around for way longer than anyone thought possible.
When John Wick (85%) first started the revenge path for Reeves it didn't seem like anything worth the time to watch. And yet critics loved the style, tone and unapologetic "kill at all costs, don't fuck with me" vibe Reeves crushed. Chad Stahelski is back directing after helming the original. I don't think this latest reaches those same heights, though it probably doesn't need to. This is Keanu and he just needs to bring his style with a couple of guns and vendetta.
I wrote about Fifty Shades Darker when Fifty Shades of Grey first came out, and I remain fascinated by the polarizing aspect of the series. There are the folks that either love it and obsess over it, or understand it's absolutely the biggest piece of garbage ever to hit printed book stands. There doesn't seem to be much in between at all.
Fifty Shades Darker is the sequel to Fifty Shades of Grey (25%), and if it finishes above the first I'd be completely floored. James Foley directed Glengarry Glen Ross (94%) and now 25 years later we've got this piece of trash. It seems like a long way to fall except when I remember he's probably richer than any of us. If you do that, then you can put out as many movies about S&M relationships based on crappy books that you want. Enjoy it, true fans, because critics are probably going to hate it.
The tone of my predictions were within range, but the scores themselves missed by quite a bit. Rings (Predicted: 19% Actual: 5%) ended up as a critical disaster, coming in as what will surely be one of the worst-reviewed wide releases we'll see all year. This falls under the category of "Sequels no one wanted and never should have been made." This low of a score really begs the question, "Who liked it?" Three critics out of 55 thought it was worth heading to the theaters, and everyone else thought it was garbage.
Meanwhile, I had a strong suspicion that The Space Between Us (Predicted: 38% Actual: 18%) just wasn't going to click. The story appeared so hokey and contrived (I said the they likely came up with the title before writing the script) that it just didn't seem like anyone could latch on. I went higher with the score mostly because I get sucked into cute ideas that could end up being higher than expected. Wasn't the case here with it ending up real close to the basement.
Next time around we've got A Cure for Wellness, Fist Fight and The Great Wall. It's gonna be a Rotten Week!
Your Daily Blend of Entertainment News
Doug began writing for CinemaBlend back when Terminator: The Sarah Connor Chronicles actually existed. Since then he's been writing This Rotten Week, predicting RottenTomatoes scores for movies you don't even remember for the better part of a decade. He can be found re-watching The Office for the infinity time.