John Wick's 10 Craziest Kills, Ranked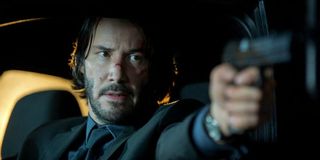 It's no secret that sequels often fail to live up to fan anticipation, but John Wick: Chapter 2 has surpassed even the loftiest expectations. The film is a dark, violent, and stylish tale of an assassin returning to his former life, and it definitively proves that the original John Wick wasn't just a fluke for Keanu Reeves and Chad Stahelski back in 2014. It's a beautiful concept that's destined to become an action classic. In layman's terms: we cannot get enough of it.
Of course, if there's one thing that specifically allows John Wick to stand out amongst the competition, it's the action. These films are brutal, they're violent, and they allow Reeves to flex his action muscles in ways that we have not seen since the first Matrix film. Now let's get to the good stuff. Mr. Wick has taken down plenty of thugs during his time as a world-class assassin, but the first entry on our list is easily one of his most unexpected kills.
10. The Church Thugs
This one makes the cut because of how utterly unexpected it is. After getting vital information from Ms. Perkins (Adrianne Palicki), John makes his way to a church run by Viggo's men. Strolling into the building like it's nothing, John suddenly pulls a rifle from his jacket and shoots every one of Viggo's people inside the establishment -- including one disguised as a priest -- in rapid succession. Unlike most of John Wick's kills, we just never saw this one coming.
9. The Hand-To-Hand Fight With Ares
Although John doesn't get much of a final fight with Santino D'Antonio (Ricardo Scamarcio) -- with good reason, as the central bad guy is a coward -- he gets a fantastic showdown with Roby Rose's Ares. It's fantastically brutal hand-to-hand confrontation, and Ares comes arguably closer than anyone else in Chapter 2 to taking John Down. Alas, John once again comes out on top, and the duo shares one more moment before he goes off to finish his business.
8. The Violinist
When John gets back to New York after completing his assignment in Rome, he can't just waltz up to Santino and take him down. He has to go through wave after wave of assassins first. One of the most memorable killers of the bunch is a female violinist who gets the drop on John in an underground walkway -- until John brutally breaks her arm and then summarily executes her on the spot. You almost feel sorry for her, and then you remember that she moved on him first.
7. Iosef's Friend
This kill allowed us to indulge our sadistic sides when we first saw it in 2014. When John decides to pursue Iosef Tarasov to the Red Circle bathhouse, he makes his way through a series of guards until he finally confronts Iosef's buddy -- who accompanied the young Russian to kill Daisy earlier in the film -- in a locker room. John makes the death hurt, and then quickly moves on to Iosef -- not wanting to dwell on someone so minor.
6. Viggo Tarasov
While the younger Tarasov was John's primary mission in the original John Wick, his father (Michael Nyqvist) gave him one of the best fights that we have seen in either of the franchise's installments. John and Viggo's battle at the docks is a beautifully choreographed and brutal piece of filmmaking, and the moment John takes him down is sweet justice for the losses of Daisy, Marcus (Willem Dafoe), and John's peaceful existence. At least he put up more of a fight than his son.
5. The Knife Punch Kill
This death was one of the first kills that audiences saw during the events of the original movie, and it was easily one of the most brutal. After murdering of most of the henchmen who invade his home, Mr. Wick faces off in a knife fight with the lone survivor. Gaining the upper hand, John uses all of his might to punch the knife into the thug and take him down. It's one of the most grisly kills in the entire franchise, and it shows how much John feels the deaths he causes.
4. The Shotgun Reload Kill
The Coronation sequence in John Wick: Chapter 2 kicks into high gear when he retreats into the tunnels under the ceremony. The shotgun (provided to him by The Sommelier) that he saves for himself towards the exit is vital to his escape, but it quickly runs out of ammo. Thinking fast, John uses the barrel of the weapon to pin a thug to the ground while he puts a single shell into the receiver -- which he quickly uses to blow the bad guy away at point blank range. Beyond creative.
3. The Sumo Assassin
The John Wick films feature some of the best American stuntwork that we have ever seen, and the film clearly understands how to mine quite a bit of humor out of Keanu Reeves' slapstick chops. The scene that embodies that idea is John's fight against the Sumo Wrestler Assassin in the streets of New York. The battle goes for pure comedy, and John emptying his gun to take down the thug is equal parts hilarious and brutal in how absurd it is.
2. The Pencil Kill
This was, without question, the best piece of fan service in all of John Wick: Chapter 2. John Wick's ability to turn anything into a weapon has become well-documented, and his (fucking) pencil kill is an iconic piece of lore within this universe. Luckily, he manages to find another one of these handy writing utensils when he returns to New York from Rome, and he succeeds in burying it firmly into the head of an assassin trying to take him down. It's cringeworthy stuff.
1. Iosef Tarasov
While the death of Iosef Tarasov (Alfie Allen) is far from the flashiest John Wick kill in the entire franchise, it's unquestionably the piece de resistance. It's this little punk who kills Daisy, steals John's car, and sends him down a violent path from which there is no turning back, so John's decision to shoot him without giving him a second glance is the perfect payoff for all of the bodies that he has left in his wake.
Your Daily Blend of Entertainment News
Originally from Connecticut, Conner grew up in San Diego and graduated from Chapman University in 2014. He now lives in Los Angeles working in and around the entertainment industry and can mostly be found binging horror movies and chugging coffee.