7 DC Characters Willem Dafoe May Be Playing In The Justice League Movie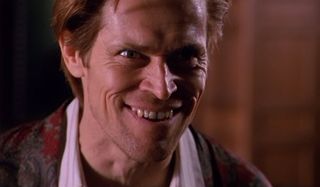 Although production has already begun on Zack Snyder's highly anticipated blockbuster, Justice League Part One, the film remains steeped in mystery. Aside from the seeds we saw planted during the events of Batman V Superman: Dawn of Justice, we know very little about how the titular League will even come together, and what sort of threat they will face when they do. That being said, the cast has slowly begun to come together quite nicely. In addition to the recent casting of J.K. Simmons as Commissioner Gordon, we now also know that DC has enlisted the acting chops of Simmons' fellow Spider-Man actor (and our favorite Green Goblin) Willem Dafoe for a major role in both Justice League films.
Although initial rumors seem to indicate that Willem Dafoe will portray a "good guy," in the upcoming Justice League movie, we here at Cinema Blend like to keep our bases fully covered. With that in mind we have taken it upon ourselves to compile a list of seven roles Dafoe could end up taking on (some good and some bad) when Justice League Part One finally hits theaters next year. Check out the list below and be sure to let us know whom you think he might be playing.
Oliver Queen (Or Another Aging Hero)
Through the simple act of casting Michael Douglas to portray an aging Hank Pym, Marvel Studios effortlessly informed decades worth of MCU superhero adventures without a single movie dedicated to his younger years. DC could very easily do the same by hiring Willem Dafoe to portray a character such as Oliver Queen's Green Arrow, Ted Kord's Blue Beetle, or Ray Palmer's The Atom to emphasize the idea that heroes existed in the DCEU before the arrival of Superman, but the Kryptonian attack on Metropolis ushered in the age of SUPER heroes. He wouldn't even have to done an iconic outfit. He could simply work behind the scenes as support for the younger lineup of modern heroes who will stand up to whatever threat the earth faces during the events of the films.
A Descendant of Steve Trevor
Although Diana Prince's romance with Steve Trevor will likely have to remain firmly in the early 20th century, that doesn't mean that a member of the Trevor family can't maintain a relationship with Wonder Woman. Within the Wonder Woman mythos, there is ample precedent for Steve Trevor to have a son (or grandson) conveniently also named Steve Trevor. Perhaps he works with Amanda Waller at A.R.G.U.S, or he could be a liaison from the White House, but a descendant of Chris Pine's could believe in the Amazon and be one of the people who truly convince her to continue fighting for man's world.
Henry Allen (Or Jay Garrick)
Like most of the heroes in the DC universe, Ezra Miller's Flash will need a moral compass to teach him how to cope with his newfound powers. Willem Dafoe could potentially step in as a mentor for the young Scarlet Speedster. This could come in the form of his father Henry Allen or fellow speedster Jay Garrick from an alternate universe. We've seen other versions of this dynamic before in The CW's Arrowverse, but the DCEU could expand upon these relationships by delving deeper into how Barry's use of speed to manipulate time and space could potentially turn these "good guys" into malicious foils of their former selves. The Flash could go back in time to save his mother Nora from her murder during his childhood, but in the process turn his beloved father figure into a personal villain.
Tom Curry
In keeping with the idea of him being a mentor, another distinct possibility is that Willem Dafoe will portray lighthouse keeper Tom Curry, father to Arthur Curry a.k.a Aquaman. Tom Curry plays an incredibly important role in his sons life, as he teaches him a level of compassion for life that he never would have understood growing up in the royal, militaristic world of Atlantis. The DCEU has thus far done a phenomenal job of introducing heroes whose parental figures have shaped them, and Willem Dafoe's kind take on Tom Curry would perfectly showcase how Jason Momoa's Aquaman balances his peaceful surface-dweller side with his Atlantean taste for war.
Martian Manhunter
DC fans experienced some major disappointment when it was revealed that the initial Justice League lineup for the DCEU would not feature longtime fan-favorite Martian Manhunter. Real name J'onn J'onzz, a.k.a John Jones, Martian Manhunter is one of the last of his kind from Mars. His abilities include telekinesis, telepathy, the ability to shape shift, and even phase through solid matter. Among the entire Justice League roster, he could easily be the most powerful if not for his distinct psychological weakness to fire. He shares many similarities to Superman as an outsider from another world, but he has the distinction of holding onto his heritage – acting like an ambassador between worlds. Manhunter is an older, more seasoned character, and one that Willem Dafoe could easily bring to life.
Desaad
With all of the apparent indications that Darkseid will soon arrive to create Apokolips on earth, we have begun to wonder whether or not Willem Dafoe will portray the intergalactic tyrant's right hand man: Desaad. The Heinrich Himmler to Darkseid's Adolph Hitler, Desaad is a wiry sadist with a diminutive stature by comparison to his boss. There's one thing Willem Dafoe has proven over his decades long career, and that's his ability to play a creepy, brutal fiend with a taste for tormenting people. If his Justice League character intends to have a direct impact on the bearing of the plot, then we can think of few choices better than Desaad.
The Original Joker
I know, I know. It's arguably the most divisive fan theory in recent memory, but it's also not without its merits. Many audiences have come to the conclusion that Jared Leto's Joker might not actually be the original Joker in the DCEU, but a former Batman ally corrupted by the original Joker of Gotham. In an amalgam of the Arkham Knight and Batman Beyond: Return of the Joker storylines, Justice League Part One and Part Two may see Willem Dafoe appear as the true Clown Prince of Crime in flashback sequences that show how Leto's Joker came to be. Dafoe has been a fan favorite choice for the role since the days of Jack Nicholson, so it would prove undeniably awesome to see him finally don a purple suit to take on the role of a lifetime.
Originally from Connecticut, Conner grew up in San Diego and graduated from Chapman University in 2014. He now lives in Los Angeles working in and around the entertainment industry and can mostly be found binging horror movies and chugging coffee.
Your Daily Blend of Entertainment News
Thank you for signing up to CinemaBlend. You will receive a verification email shortly.
There was a problem. Please refresh the page and try again.