The Vicious Matt Damon Joke Jimmy Kimmel Didn't Get to Use At The Oscars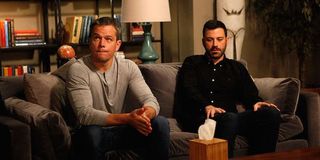 Amidst all of the drama that occurred during the fallout of the recent Academy Awards ceremony, it is easy to forget what went right. Jimmy Kimmel did a great job hosting the affair, and his rivalry with Matt Damon made for some phenomenal jokes. However, it now seems that one of his best jokes was ultimately cut from the show because of the Best Picture drama that occurred towards the end of the evening. Kimmel explained:
Jimmy Kimmel recently made an appearance on The Bill Simmons Podcast and admitted that he had one last joke left up his sleeve that ultimately went unused during this year's Oscars ceremony. His intention was to insult Matt Damon for not winning the Best Picture award this year and berate him for falling short where his Manchester By The Sea collaborators succeeded. However, this ultimately didn't pan out as Faye Dunaway and Warren Beatty accidentally announced La La Land as the Best Picture winner instead of Moonlight -- thus sending the evening into a hilarious tailspin at the last second.
This joke would have been an absolute killer insult on the part of Jimmy Kimmel, and that is saying something considering that he did not pull any punches against Matt Damon during the ceremony. If you recall, he was even brutal enough to bring up We Bought A Zoo, as well as the terrible hairstyle that Matt Damon sported during his recent film The Great Wall. That is about as cold-blooded as rivalries get.
It kind of makes you wonder if Matt Damon was ultimately behind the switching of the envelopes. Maybe he knew the joke was coming and decided that he not want it to go down that way. This seems even more convincing because Kimmel later revealed that Matt Damon was the one who tipped him off that the wrong movie had been announced on stage. I am not a conspiracy theorist, but the evidence is there if you look closely.
Of course, the Matt Damon/Jimmy Kimmel feud does not seem like it is going anywhere anytime soon, so I have a feeling that there are still plenty more zingers on the way. Their bitter rivalry was easily the funniest (scripted) part of the Oscars ceremony, so we cannot wait to see what they do next.
As always, we will make sure to bring you more information about Jimmy Kimmel and Matt Damon's hilarious relationship as more incidents occur and more details become available to us.
Originally from Connecticut, Conner grew up in San Diego and graduated from Chapman University in 2014. He now lives in Los Angeles working in and around the entertainment industry and can mostly be found binging horror movies and chugging coffee.
Your Daily Blend of Entertainment News
Thank you for signing up to CinemaBlend. You will receive a verification email shortly.
There was a problem. Please refresh the page and try again.