Bad Boys 3 Just Hit Another Major Setback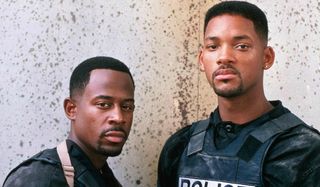 The Bad Boys 3 production just took another hit. Joe Carnahan, who has been the driving force between the production that's expected to reunite Will Smith and Martin Lawrence, has left he project. The reasons given included the standard answers: scheduling issues and creative differences. We have reached out to Joe Carnahan for a statement.
For now, The Hollywood Reporter has the exclusive, saying that Joe Carnahan has exited what was temporarily titled Bad Boys For Life, and was due to star Will Smith and Martin Lawrence in the roles they made famous through two Michael Bay movies in 1995 and 2003. The trade notes that Carnahan, in addition to agreeing to direct Bad Boys 3, was responsible for the most recent draft of the script and the architect of the new story. For a while, Carnahan was vocal about unique villains he had created for the "Bad Boys" to face off against. Now, however, sources tell THR that the search is on for a new director, and that a new writer "may be hired as well."
That sounds like Bad Boys 3 is back to Square One.
Anyone paying casual attention to Joe Carnahan's Twitter feed understands that he loves collecting possible projects. Over the years, Carnahan -- who has directed such films as The A-Team and The Grey -- has circled everything from an Uncharted adaptation to an X-Force script as well as the most recent The Raid remake. Carnahan usually stays busy by tinkering on the scripts for these movies, and occasionally steps up to say that he will direct them... as he did with Bad Boys For Life, and this new Raid remake/reboot/reimagining that he is doing with Frank Grillo.
Only, none of these films actually happen, and Bad Boys 3 is now the latest project presided over, albeit temporarily, by Joe Carnahan to hit a major snag.
So, where does this leave Sony's Bad Boys 3? The sequel recently pushed its release date back from January 2018 to November 8, 2018, and while that's still feasible, this director void will have to be filled quickly if the sequel is going to stay on track. The ambitious plan was for Will Smith and Martin Lawrence to come back for not one but TWO Bad Boys sequels, though given the issues that Bad Boys 3 keeps running into, a fourth seems wildly optimistic at this point, especially given the sheer number of projects Will Smith is frequently juggling.
At the very least, let's all hope that if a forth happens, they save the title Bad Boys For Life for that one. That just makes sense.
We'll continue to keep you posted on the fallout from Joe Carnahan's departure from Bad Boys 3. Will this lead to Will Smith and Martin Lawrence's exits, as well? We shall see.
Movie junkie. Infatuated with comic-book films. ReelBlend cohost. Resident dad. Extroverted introvert. Wants to see the Snyder Cut. Managing Director at CinemaBlend.