What It Would Take For Bourne 6 To Happen, According To Matt Damon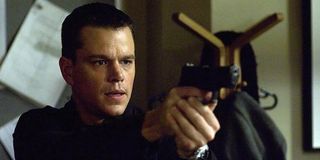 It looks as though Jason Bourne might finally be done and dusted. Matt Damon has confirmed that there are currently no plans for him to return as the spy with amnesia, while he added an extra nail to the coffin of the franchise by insisting that he'd only be willing to do if a tremendous idea for a new story came his and director Paul Greengrass' way.
Matt Damon made this admission to the Toronto Sun, confirming that at the moment no discussions have even remotely taken place regarding a sixth Jason Bourne film. Just to make the potential film seem even more out of reach, Matt Damon then set the bar a little bit higher for what they'd need before they'd even contemplate a return. He said:
All in all, Matt Damon seems very despondent about another Jason Bourne film. That's because as well as insisting that the story would have to be top notch for him to even consider portraying the character again, he even went on to suggest that the poor reaction to Jason Bourne when it was released last summer has diminished his appetite for doing so anyway. In fact, Matt Damon admitted that the lack of interest in Jason Bourne from audiences makes him think they're done with the character, too. He continued:
While I'll admit that the level of anticipation and fervor for Jason Bourne was nowhere near as high as it was for The Bourne Ultimatum when it was released back in 2007, it still managed to put up solid enough box office numbers, as it returned $415.5 million. While that put it behind The Bourne Ultimatum's $442.8 million gross, it was still the second highest grossing film from the series, streets ahead of The Bourne Identity's $214 million and The Bourne Supremacy's $288.5 million.
Where Jason Bourne was lagging was in the reviews, as it scored just 56% on Rotten Tomatoes, while the other Matt Damon-led installments scored 81%. 83% and 93%, respectively. The film was thought of so poorly that it even scored the same as The Bourne Legacy on the website. You can check out Damon doing his damndest as the titular agent in Jason Bourne by watching its trailer below.
While Matt Damon was mostly dismissive about the chances of another Jason Bourne film, he still managed to leave a slither of hope. That's because he spoke glowingly about working on the film, even insisted that they "are a lot of fun to make," before admitting, "We sure would be happy to do it." But he couldn't resist reminding us of that one little caveat, by once again declaring that he'd only do so, "if we can figure out a good story." What a tease.
Your Daily Blend of Entertainment News