This Rotten Week: Predicting Beauty And The Beast And The Belko Experiment Reviews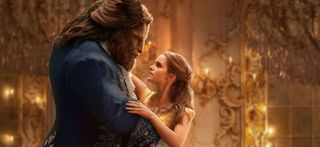 We only have two movies coming out this week but they couldn't be any more different. Not the one hand you have a live action remake of a Disney classic. On the other there's an office horror movie. Get ready for Beauty and the Beast and The Belko Experiment. It's gonna be a Rotten Week!
Just remember, I'm not reviewing these movies, but rather predicting where they'll end up on the Tomatometer. Let's take a look at This Rotten Week has to offer.
There's been a big Hollywood push in the short term to bring live action versions of classic Disney films to the big screen. The results on these are mixed. Sure, we get the _Cinderella_s (83%) of the world which go over okay. Or you can run into a Maleficent 50%), which just middles around the realm of the forgotten. Just because the stories and characters are rather timeless doesn't mean it instantly translates to a live action remake. I suspect Bill Condon's new adaptation of Beauty and the Beast trends more towards the middle of these two groups, considering early reviews are coming in luke warm and the score probably only drops from here. Some critics really enjoyed it, but enough seem have left unsatisfied that I'm nearly certain the current 68% score dips down to the high 50's.
Director Bill Condon has some big time wins on his resume with Dreamgirls (78%), Kinsey (90%) and Mr. Holmes (88%). But his most popular other foray into the adaptation world didn't go so hot from a critical perspective, with The Twilight Saga: Breaking Dawn - Part 1 and Part 2 (24% and 49% respectively) not lining up with expectations of the director's past work. Again, the truth on this one is most likely in the middle. Disney fans will almost definitely appreciate the film while it may have trouble reaching a broader audience.
In recent years, James Gunn has been synonymous with fun sci-fi action thanks to Guardians of the Galaxy (91%), but fans won't soon forget his work in the horror realm. Not only does he have a history with Troma Entertainment, but some of his most popular early works include Zack Snyder's Dawn of the Dead (75%) - which Gunn wrote - and Slither (86%). In the next few months we'll see him back in the Marvel realm with Guardians of the Galaxy Vol. 2, but before that we're getting the theatrical release of the most recent horror script he wrote: The Belko Experiment.
Directed by Greg McLean (Wolf Creek - 53%), The Belko Experiment is sitting at 63% on Rotten Tomatoes less than ten reviews posted. Some critics seem to enjoy the satirical send up of the office politics gone completely awry, while others believe it misses the mark completely. I suspect it gathers something of a mini-cult following without really knocking it out of the park with reviews.
We had only one movie last week and it ended up a Rotten Watch win. Kong: Skull Island (Predicted: 80% Actual: 78%) came in with a solid score. I definitely had a head start on the prediction, considering a bunch of reviews were in already and it barely moved over the course of the week. That being said, this is another great addition to the MonsterVerse that already includes Godzilla (74%) and has more flicks coming down the pipeline. Critics had nearly universal agreement surrounding the visual effects and the actual character of Kong looming large on the big screen. But those who found fault thought the filmmakers missed a little bit in the story line. That being said, overall this finished with a fantastic score and has me excited for Legendary Films to continue building on this world where indestructible monsters live among us if we can just find them.
Next time around we've got CHiPS, Life, Power Rangers and Slamma Jamma. It's gonna be a Rotten Week!
Your Daily Blend of Entertainment News
Doug began writing for CinemaBlend back when Terminator: The Sarah Connor Chronicles actually existed. Since then he's been writing This Rotten Week, predicting RottenTomatoes scores for movies you don't even remember for the better part of a decade. He can be found re-watching The Office for the infinity time.
Your Daily Blend of Entertainment News
Thank you for signing up to CinemaBlend. You will receive a verification email shortly.
There was a problem. Please refresh the page and try again.