Why Star Wars Fans Won't Ever See The Opening Crawl Gary Whitta Wrote For Rogue One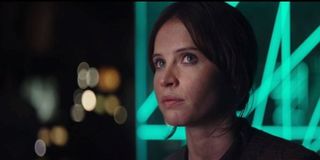 Fans of the Star Wars franchise have been wondering for a while now if the world would ever see any kind of "opening crawl" for Rogue One: A Star Wars Story -- and earlier this week director Gareth Edwards stoked the flames by telling fans that screenwriter Gary Whitta had written one for the first draft of the blockbuster's script. Sadly, however, we're here to burst the bubble on the entire concept, as I received confirmation this afternoon from Whitta not only that no "official" version of a crawl has ever existed, but also that legal and quality reasons will very likely forever prevent what he does have from seeing the light of day.
With Rogue One: A Star Wars Story soon arriving on Blu-ray and DVD, I had the pleasure of hopping on the phone with Gary Whitta earlier today to talk about his work on the blockbuster -- and specifically asked about the opening crawl that may or may not exist. Specifically citing the comments made by Gareth Edwards earlier this week during a Reddit AMA, I asked if he could talk about the crawl and what we missed out on -- and Whitta set the record straight on what does and doesn't exist.
According to Gary Whitta, no opening crawl ever existed in any draft of the Rogue One: A Star Wars Story screenplay that he personally wrote. This was because of conversations that he had very early on in the process with Gareth Edwards and the team at Lucasfilm about what would differentiate the spin-off titles in the franchise from the saga titles - other elements including John Williams music and Akira Kurasawa-inspired screen wipes. Instead, what Whitta did write down was a temp draft of the crawl that was never meant to be included in the movie (and to the writer's pride, was actually the exact same word count as the Brian DePalma-written version that runs at the start of Star Wars: A New Hope). The earliest versions of the film opened with the Empire finding the Erso family and Krennick's shuttle landing on the planet Lah'mu.
But even this non-official version of the opening crawl will likely never be released, and Gary Whitta had a really good explanations as to why. For starters, he signed non-disclosure agreements prior to working on Rogue One: A Star Wars Story, meaning that even if he did want to post his work online, he would be open to a very expensive lawsuit as a result.
But that would require him to be interested in releasing it, and that's not actually the case. Instead, Whitta told me that he doesn't really want his "opening crawl" to get out because it's a unpolished piece of work that he doesn't feel is worthy of fans potentially thinking of as canon. If Rogue One had been intended to have a crawl, it would have had one that went through multiple drafts -- likely from multiple writers -- and edited until it was absolutely perfect. Because no official crawl like that exists, Whitta feels that it's best that his not be released to the public.
Minus an opening crawl or any evidence that one ever existed, Rogue One: A Star Wars Story is arriving on Blu-ray and DVD on April 4th, and DigitalHD on March 24th. In the meantime, stay tuned for more from my interview with Gary Whitta here on CinemaBlend!
Assistant Managing Editor
NJ native who calls LA home and lives in a Dreamatorium. A decade-plus CinemaBlend veteran who is endlessly enthusiastic about the career he's dreamt of since seventh grade.
Your Daily Blend of Entertainment News
Thank you for signing up to CinemaBlend. You will receive a verification email shortly.
There was a problem. Please refresh the page and try again.