Why White Men Can't Jump Had To Pass On Famous Actors Like Keanu Reeves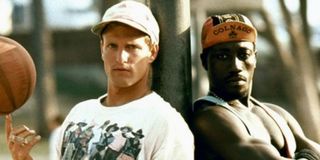 White Men Can't Jump is probably the most famous depiction of basketball in all of cinema. An honor that it may just beat out Space Jam for. So it's not surprising that one of the requisite skills of starring in White Men Can't Jump was the ability to convincingly play basketball. It now turns out that a number of famous actors weren't able to do that. Which is why the likes of Keanu Reeves and various other big Hollywood names weren't cast, leaving Woody Harrelson to take the leading role of street hustler Billy Hoyle alongside his partner Sidney Deane, played by Wesley Snipes (the latter of which was reportedly more of an overall athlete than a good player). White Men Can't Jump's writer and director Ron Shelton recently revealed that he passed on a number of actors, including Reeves, who just couldn't play ball. He also recalled how the process worked when asked about the auditions for the film,
It makes sense that Ron Shelton would be so intent on making sure that White Men Can't Jump realistically depicted the game of basketball. Especially since he'd just been through the same process on Bull Durham, that time with baseball. As part of the 25th Anniversary, Ron Shelton admitted that he wanted to make sure that White Men Can't Jump was drenched in credibility, something that it could only ascertain if its actors had the technique and skill to play basketball.
Because of the success of Bull Durham, which made $58 million from just a $7 million budget when it was released back in 1988, there was a huge amount of interest in White Men Can't Jump. Studios expected Ron Shelton to be able to replicate this triumph. This meant that Ron Shelton was inundated with requests from the agents of up-and-coming actors who wanted their clients in the film, even though they plainly didn't know how to handle a basketball. Unfortunately for Keanu Reeves, the actor was the only one that Ron Shelton name-checked. In fact, Ron Shelton gave Keanu Reeves the ultimate insult, as he called him a hard worker but "not a basketball player." Ouch. At least praise his fundamentals.
Wesley Snipes, who was also interviewed by Entertainment Weekly for anniversary, also insisted that every burgeoning young actor from the era was "there for the audition." But it turns out that even Wesley Snipes' basketball skills weren't quite up to par. However, Ron Shelton explained that even though Wesley Snipes "is not a great basketball player," his athleticism was instantly recognizable, while it was his brash attitude and constant trash-talking that helped to secure him the role. It was a little bit easier for Woody Harrelson, though, as he played ball through his teenage years in Ohio. Plus it also helped that after co-starring alongside Wesley Snipes in Wildcats the two had an instant rapport that perfectly lent itself to the movie. So much so that, after being cast first, Wesley Snipes said that he intentionally sabotaged Keanu Reeves' audition so that Woody Harrelson would get the part, something that he previously admitted.
It worked a treat, too, because White Men Can't Jump ultimately went on to gross $90.8 million when it was released in 1992, and Wesley Snipes and Woody Harrelson's chemistry is widely regarded as one of the main reasons for its success. Sorry Keanu.
Your Daily Blend of Entertainment News