White Men Can't Jump Being Remade By A Top Sitcom Creator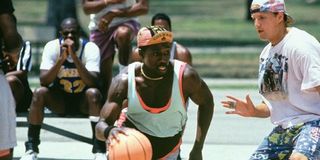 We currently live in an age when Hollywood can't help but remake its past successes. Over the next few years, the likes of A Star Is Born, An American Werewolf In London, Escape From New York, Ghost In The Shell and The Mummy are planned, to name a few. We have an extra film to add to this pile now, too, because a brand new version of White Men Can't Jump is now in development.
That's according to The Hollywood Reporter, who have revealed that Blackish's Kenya Barris has teamed up with producers Blake Griffin and Ryan Kalil for a brand new version of the 1992 sports comedy. For those of you that don't follow sports, Blake Griffin and Ryan Kalil spend most of their days training and playing basketball and football for the Los Angeles Clippers and Carolina Panthers, respectively. The duo have a production banner entitled Mortal Media, which they oversee with Noah Weinstein, and is still in its infancy.
The trio brought the idea to Twentieth Century Fox and they're now developing the remake, with Kenya Barris writing the script. Barris is working with Twentieth Century Fox on the remake after he signed an overall deal with the studio for his scripts back in September 2016. Over recent years Barris has found tremendous success with Black-ish, which is now in its third season and has won several Golden Globe, Emmy and TCA awards since it premiered in 2014.
White Men Can't Jump was released back in 1992 to positive reviews and went on to gross $90.7 million around the world. Written and directed by Ron Shelton, who forged quite a formidable career out of making sports films (Bull Durham, Cobb, Tin Cup), White Men Can't Jump revolves around basketball street hustlers played by Wesley Snipes and Woody Harrelson who are constantly trying to outdo each other. It also featured Rosie Perez as Harrelson's girlfriend that longs to feature on Jeopardy!.
The title derives from the fact that Wesley Snipes repeatedly makes fun of Woody Harrelson for his inability to dunk. You can check out the delightfully retro trailer for White Men Can't Jump below.
There's one individual who will be particularly disappointed to miss out on the return of White Men Can't Jump. That man is none other than Stanley Kubrick. That's right, the legendary director of Dr Strangelove, Paths Of Glory, 2001: A Space Odyssey and A Clockwork Orange considered White Men Can't Jump to be one of his favorite films. Seriously.
We don't have any further news about when the remake of White Men Can't Jump will be released, but we can only hope that they'll find room for Woody Harrelson and Wesley Snipes to pop up in it. Snipes could certainly use the career boost.
Your Daily Blend of Entertainment News
Your Daily Blend of Entertainment News
Thank you for signing up to CinemaBlend. You will receive a verification email shortly.
There was a problem. Please refresh the page and try again.