Why Ares Was Chosen As Wonder Woman's Villain, According To Patty Jenkins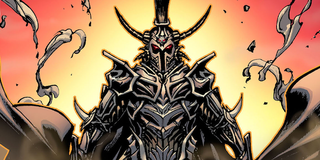 The DC Extended Universe had a wide variety of options to pick from when it came to selecting Wonder Woman's main villain. But instead of it being either Giganta, Cheetah or Medusa, director Patty Jenkins and the rest of the DC team decided to go with the God Of War himself, Ares. Jenkins has now revealed why they decided to pit Wonder Woman against such a formidable foe in her very first film. As it turns out, they really didn't have any other choice, as Jenkins explained:
Considering how long the world has been waiting for a solo Wonder Woman film, Patty Jenkins' explanation to ComicBook was pretty reasonable. Of course, the big question now is whether or not Ares and Wonder Woman can succeed where so many other films fall short and actually create a riveting and genuinely terrifying villain. Even though the superhero genre truly exploded over a decade now, there has really only been one memorable villain during this time in the shape of Tom Hiddleston's Loki.
Wonder Woman has already made a pretty impressive step in its quest to make Ares worthwhile, as they have cast the always stellar David Thewlis to portray the treacherous Greek God of War and son of Zeus, who poses on Earth as Sir Patrick Morgan, an advocate for peace on the war council. Thewlis is mostly known for his role as Remus Lupin throughout the Harry Potter film series, while he also put in one of the finest acting performances of the last 25 years in Mike Leigh's Naked back in 1993.
Wonder Woman won't just have Ares to contend with, though. That's because Elena Anaya will be portraying Maru/Doctor Poison, a mad scientist that specializes in chemistry and has a knack of creating poisons/ There's plenty of reasons to suspect that Danny Huston's General Erich Ludendorff will be up to no good, too, as the film is set in World War I and he's an ambitious general for the German Army.
We're quickly closing in on the release of Wonder Woman, which is now less than 2 months away from hitting theaters. The more people see of the film, the more the hype surrounding Wonder Woman increases, too, with the WonderCon footage proving to be particularly impressive. After both Suicide Squad and Batman v Superman: Dawn Of Justice proved to be huge critical disappointments last year, there's pressure on Wonder Woman to deliver when it finally arrives on June 2. Especially since fans have been waiting for the cinematic origin tale for the superhero since as far back as 1996.
Your Daily Blend of Entertainment News
Your Daily Blend of Entertainment News
Thank you for signing up to CinemaBlend. You will receive a verification email shortly.
There was a problem. Please refresh the page and try again.