Transformers: The Last Knight Will Explain Their Secret History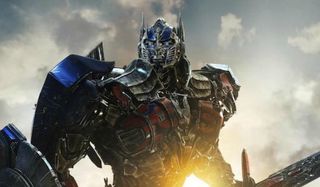 Transformers: The Last Knight is a very important film for the franchise. Not just because it marks the fifth installment, but also because ahead of its production, a team of writers assembled to stretch out the mythology of the Transformers so that it could then blossom into its very own universe. This will obviously include taking a deeper look at the history of the Transformers, and we've now been given a new peek at what this will actually entail thanks to some freshly-released footage. A clip that is all the more impressive because Anthony Hopkins' beautiful booming voice is narrating. You can feast over this quick look at Transformers: The Last Knight below.
According to the above clip, The Last Knight is going to show us that the Transformers have been involved in every major conflict in recent memory. Sir Anthony Hopkins' Sir Edmund Burton, who is an astronomer and historian regarding the Transformers' past on Earth who debuts in The Last Knight, informs us that the legacy of the Transformers has actually been kept hidden from public consumption for over 1,000 years. Which must mean that people weren't quite as observant in the days of yore, because it must have been pretty difficult to miss the enormous robots walking amongst them.
We've actually known for quite a while that Transformers: The Last Knight would delve into the past of the beloved Robots In Disguise. Not only were sequences filmed during World War II, but the trailer shows that King Arthur himself, played by Liam Garrigan in The Last Knight, will appear, too. In fact, the main thrust of Transformers: The Last Knight will revolve around Mark Wahlberg's Cade Yeager joining up with Bumblebee, Anthony Hopkins' Sir Edmund Burton and Laura Haddock's Vivian Wembley, a professor at the University Of Oxford, to try and figure out exactly why the Transformers keep on coming back to Earth.
While this trio are conducting this investigation, Stanley Tucci, Isabela Moner, Josh Duhamel, Tyrese Gibson, John Turturro and Jerrod Carmichael will also be mixing it amongst the Transformers on Earth. Optimus Prime will arrive back on Earth sometime during the movie, as he departed at the end of Age Of Extinction to try and learn more about his Creators, while Megatron will cause all kinds of havoc in his absence. You can check out the trailer for Transformers: The Last Knight below.
We don't have too long to wait until Transformers: The Last Knight is actually with us, because the Michael Bay blockbuster will be in theaters on June 23.
Your Daily Blend of Entertainment News
Thank you for signing up to CinemaBlend. You will receive a verification email shortly.
There was a problem. Please refresh the page and try again.