Why Critics Actually Started Liking The Fast And Furious Movies, According To The Producer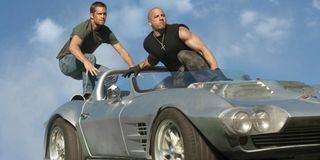 You've probably noticed that over the last few Fast And Furious movies the critics have become more and more favorable towards the franchise, with Furious 7 receiving the best reviews in its history. It's something that caught the attention of producer Neal Moritz, too, and he believes that critics warmed to the Fast And Furious movies because they started to appreciate them for what they are, rather than comparing them to other movies. Neal Moritz explained,
It's hard to argue with Neal Moritz's comment to Uproxx, because you don't get to see cars falling out an airplane and then onto a road, a vault being dragged down the middle of a Puerto Rican street by a hoard of cars, and The Rock pushing a torpedo away with his bare hands in any other franchise. It's also clear that the Fast And Furious movies have been embraced by critics as the series has aged, which is a rare occurrence in modern moviemaking as, usually, the more sequels a franchise has, the more lifeless and mundane it becomes.
The Fast And The Furious didn't get off to the best of starts, only achieving 53% on Rotten Tomatoes, as critics failed to be overly charmed by Paul Walker and Vin Diesel's blatant remake of Point Break. Things only got worse, as 2 Fast 2 Furious scored 36%, The Fast And The Furious: Tokyo Drift was given just 37%, while the franchise reached its nadir with Fast & Furious's 28%. However, then things started looking up.
After the fourth movie, though, the Fast And Furious team members decided to up their game, and in Fast Five they created what is arguably the best film of the entire franchise. Both audiences and critics agreed, too, as Fast Five was met with superb reviews to the tune of 77% on Rotten Tomatoes, while its gross of $626.1 million was over $260 million more than any other Fast film had ever made at the time. Fast & Furious 6 suffered a little nosedive critically, scoring just 69%, but the pulsating and emotional tour-de-force that was Furious 7 saw the franchise reach new heights, as critics applauded its high-octane action and touching send-off to Paul Walker by averaging 79% on the aggregate site.
Admittedly, The Fate Of The Furious has seen the series drop down to a post-Fast & Furious low of just 63%. But since box office experts are predicting that The Fate Of The Furious might even rival Furious 7's $1.6 billion haul, the franchise is clearly going to get plenty of additional opportunities to reach a new zenith. You can personally rank The Fate Of The Furious yourself when it finally hits cinemas on April 14.
Your Daily Blend of Entertainment News
Thank you for signing up to CinemaBlend. You will receive a verification email shortly.
There was a problem. Please refresh the page and try again.