7 Big Things We Need To See In Fast And Furious 9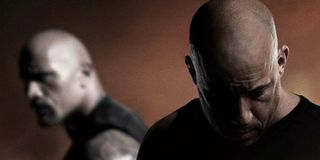 Although it completely defies the laws of physics, the Fast and Furious universe somehow manages to keep getting better with age. The Fate of the Furious has become an enormous hit since its debut in theaters on April 14, and the unprecedented box office success has made more films in this franchise a total no-brainer. Fast and Furious 9 is definitely on the way, so make sure that your seat belts are firmly fastened.
Looking ahead to the future, we have compiled a list of big things that we absolutely need to see in Fast and Furious 9. Some of these elements have to do with the story, others have to do with the action, but all of them will play fundamental roles in ensuring that this becomes one of (if not the) best Fast and Furious movies to date. With that in mind, let's kick this off with a more profound focus on Dom's newfound status as a father.
Dom Adjusting To Fatherhood
The revelation of Dominic Toretto's son was a gut punch of a storytelling move on the part of The Fate of the Furious, and we need to see more of Dom's adjustment to fatherhood as the Fast and Furious franchise continues. The retirement of Brian O'Conner during the events of Furious 7 has set a precedent that fatherhood fundamentally changes someone's life in this universe, and the very existence of Brian Toretto should lead Dom to start questioning whether or not he can sustain this outlaw life that he has lived over the last two decades.
Justice For Han
The casual way in which The Fate of the Furious glosses over Deckard Shaw's murder of Han has become a major point of contention among Fast and Furious fans. It's great to see Shaw become a bigger part of this universe (Jason Statham always delivers the goods) but it's hard to argue with the fact that it feels like the shift shortchanged Han. Fast and Furious 9 needs to acknowledge the death of Han, and give us enough of a reason to move on from his untimely demise in Tokyo at the hands of this reformed bad guy.
More Car-Based Action
Despite a few stand-out sequences (the New York scene in particular), The Fate of the Furious felt like one of the least car-centric installments in the Fast and Furious franchise. And that's a crime. We understand that the series has evolved and moved away from its street racing roots, but that doesn't change the fact that cars still play an enormous role in the very fabric of this franchise's DNA. Going into Fast and Furious 9, we want to see fast cars and gearhead culture return to the forefront of these characters' lives in a way that suits the evolution of the series.
A Stronger Team Dynamic
The Fate of the Furious flipped the script in a major way by focusing on Dom's turn to the dark side, but the overarching team dynamic suffered greatly as a result. On that note, we want to see Fast and Furious 9 return to the more ensemble-oriented nature that carried the franchise from Fast Five through Furious 7. After all, this is a franchise that lives and dies by the idea of family, and as such, we need to continue seeing how each member of this family contributes to the group in a meaningful and substantive way.
Redemption For Deckard Shaw
Building off of the idea that we need to see a greater sense of justice for our dearly departed Han, Fast and Furious 9 also needs to provide Jason Statham's Deckard Shaw with a more profound sense of redemption. There's no question that Statham stole nearly every single one of his scenes during the events of The Fate of the Furious, but the fact of the matter is that the film clearly bent over backward to get him into the plot. We want him to stick around, but we need a real reason for the team to accept him.
Punishment For Cipher
There's no question that Charlize Theron's Cipher is one of (if not the) most evil villains that the Fast and Furious franchise has ever presented audiences with. That's what makes her escape at the end of The Fate of the Furious so endlessly frustrating. While this clearly opens up new avenues for storytelling, one thing has become abundantly clear: Cipher needs to pay for everything that she has done to Dom's crew and for the cold-blooded murder of Elena. We don't want to see her jump out of another airplane; we want justice in Fast and Furious 9.
More Of Shaw And Hobbs
Sure, the fact that we may soon get a Fast and Furious spin-off centering on Hobbs and Shaw is fantastic news, but that doesn't change the fact that we still want to see them fully involved in the main Fast and Furious continuity. Hobbs (and Dwayne Johnson's portrayal of him) has become a fan-favorite character ever since his introduction into this universe back in Fast Five, and his chemistry with Deckard Shaw is completely off of the charts. With the team continuously evolving, we want more of this dynamic in Fast and Furious 9 grounding everything.
What do you think? Let us know what you want to see in Fast and Furious 9 (as well as your thoughts on The Fate of the Furious) in the comments section below. The latest Fast and Furious movie is currently in theaters, so make sure to check it out!
Your Daily Blend of Entertainment News
Originally from Connecticut, Conner grew up in San Diego and graduated from Chapman University in 2014. He now lives in Los Angeles working in and around the entertainment industry and can mostly be found binging horror movies and chugging coffee.