That Time Colin Farrell Over-Manscaped For A Movie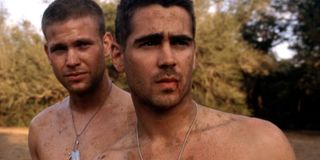 It's hard to imagine a younger, more awkward version of Colin Farrell, but that man did exist at one point. The actor recently revealed to Ellen DeGeneres that he was not always quite so confident with doing new things in movies, especially when one of those "new things" was acting out his first sex scene. While working on Tigerland in 2000, the actor accidentally over-manscaped his pubic region while attempting to please director Joel Schumacher. As he put it:
So far, so good right? Sure, Colin Farrell was pretty nervous and did some weird shit around the director, but he's a director, so he's likely used to getting asked a slew of---sometimes weird---questions and having to answer those questions on the fly. Regardless, admitting he had "retro bush" to Joel Schumacher isn't the funniest part of this story, it's the fact that he way over-shaved, to the point where he ended up with a pretty well known public hair look... at least for the ladies.
Hysterical. I can't believe that Colin Farrell even went on The Ellen Show to describe this series of events. However, it was for a good cause, as Ellen DeGeneres has been doing this segment for a while where celebrities come on and tell an embarrassing story and she gets Shutterfly to donate money to the celebrity's cause of choice. In this case, a school Farrell supports earned $10,000 dollars after his manscaping mistake became public, and it only took the actor a couple of minutes of embarrassment to earn the money for charity.
If you'd like to hear more about Farrell's charity, you can watch more from the interview, below.
While Colin Farrell will sadly not be back for the next installment of the Fantastic Beasts and Where to Find Them franchise, he does have a slew of projects coming up, including Dumbo, Inner City and The Beguiled. We already know that at least one of these will feature a sex scene, as Kirsten Dunst has spoke out about her dislike for filming a sex scene with Farrell in The Beguiled. Still, if you are hoping for more sex scenes, we're about 100% sure Dumbo is out. Take a look at what else is headed into theaters this summer.
Amazing Race & Top Chef superfan with a pinch of Disney fairy dust thrown in. If you've created a rom-com I've probably watched it.