Frequent Quentin Tarantino Collaborator Michael Parks Is Dead At 77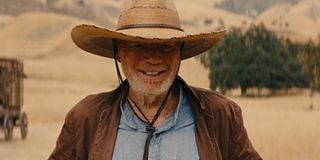 Michael Parks, an actor who over the last 20 years has been championed by a variety of filmmakers, none more so than Quentin Tarantino, has sadly died at the age of 77. It was Kevin Smith, another frequent collaborator of Michael Parks, who broke the tragic news of his passing, taking this opportunity to call him both his "cinematic muse" and praise him as the greatest actor he's ever known.
It's easy to see why, too. Just looking at Michael Parks' work with Quentin Tarantino provides ample evidence of what made him such a mesmerizing character actor. Parks first worked with Tarantino on From Dusk Till Dawn as Texas Ranger Earl McGraw, who in the opening scene is maniacally shot dead by Tarantino. Always looking for an opportunity for a cinematic inside joke, Quentin Tarantino then cast Michael Parks as Earl McGraw again in Kill Bill Vol. 1, the leading police officer that arrives after The Bride has been shot in the early stages of the film. The actor would also reprise his role as Earl McGraw in both segments of Grindhouse, while Tarantino also used him in Kill Bill: Volume 2 and Django Unchained, too.
Even though his appearances in these films were brief, Michael Parks brought a rugged authenticity to each of them. It was arguably under the direction of Kevin Smith where Parks was given the opportunity to really showcase just how gripping and terrifying a force he could be, as he played the antagonists in both Red State and Tusk, and Michael Parks did so with such gusto that it sent a tingle down your spine. It's unsurprising then that Kevin Smith took the time to say of Michael Parks during his Instagram eulogy,
Earlier in his career, the actor portrayed Adam in John Huston's 1966 epic The Bible: In The Beginning ..., Robert F. Kennedy in The Private Files Of J. Edgar Hoover, as well as opposite Henry Fonda in the Don Siegel directed Stranger On The Run, Anthony Quinn in The Happening, as the villain to Chuck Norris' hero in The Hitman, and in the cult horror film The Evictors. As well as Kevin Smith and Quentin Tarantino's films, Michael Parks also appeared most recently in The Assassination Of Jesse James By The Coward Robert Ford and Argo, plus he previously wrapped on Scott Cooper's Hostiles with Christian Bale.
In each of these films Michael Parks owned every part of the frame he was in and invariably burned himself into the viewer's brain with his presence in just a few scenes. After originally being touted as Hollywood's next big thing he might not have hit the heights expected, but he still forged an indelible mark on moviegoers, and we here at CinemaBlend would like to thank him for that while also offering our deepest condolences to those who knew and loved him.
Your Daily Blend of Entertainment News
Thank you for signing up to CinemaBlend. You will receive a verification email shortly.
There was a problem. Please refresh the page and try again.