Why Hellboy Made The Right Decision With Its Fresh Start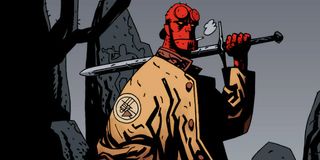 Fans of the Hellboy franchise have experienced a bittersweet combination of emotions over the course of the last day or so. The announcement of a new Hellboy film ushered in a quick and passionate wave of excitement -- which was quickly tempered by the realization that neither Guillermo del Toro nor Ron Perlman would return to the series. Instead, Stranger Things' David Harbour will step into the boots of the iconic anti-hero, and The Descent's Neil Marshall has signed on the direct the R-rated reimagining of the beloved property. While this is somewhat disheartening for longtime fans of the series, there's still plenty to get excited about here. In particular, the hiring of Neil Marshall seems like nothing less than a stroke of genius.
The first thing to note about Neil Marshall is the fact that he comes from a very similar background as Guillermo del Toro. He's a modern master of the indie horror genre, and his work on 2005's The Descent (one of the scariest films of the last two decades) has helped him carve out that legacy. If nothing else, Marshall's work on The Descent shows that he knows how to create an incredibly atmospheric horror film, and balance action with tension. He knows when to utilize a sense of minimalistic dread, and then quickly punctuate that tension with an utterly brutal fight sequence. The new Hellboy film can't take the form of an action-adventure movie; this is a film centering on the son of the devil, and it needs someone who can handle that degree of gothic tone. Marshall is exactly that type of filmmaker.
Perhaps more importantly, Neil Marshall's work on films like Dog Soldiers have proven that he knows how to balance horror with the appropriate levels of comedy that a Hellboy movie would require. For those of you who have not seen Dog Soldiers, it is a low-budget action/horror hybrid centering on a group of British troops in a desperate fight for survival against werewolves in the Scottish Highlands. The film is a visceral and violent affair, but Marshall also uses it to prove that he knows how to inject the right amount of humor into a horror story; it has a very Evil Dead -esque atmosphere. Whether this involves a monster getting his hands on a shotgun or simple reaction shots from the movie's central cast, a Hellboy movie will need that degree of deft handling when it comes to balancing its humor with its horror. Del Toro knew how to walk that tightrope, and all evidence seems to indicate that Neil Marshall can walk a similar path.
Notice anything else interesting about that picture? Dog Soldiers also stands apart from other 21st century monster movies because of its efficient use of practical effects in its visuals. That's an essential element of the Hellboy franchise that Guillermo del Toro similarly implemented in his films, so Neil Marshall's masterful use of prosthetics and models should instill quite a bit of confidence in those with concerns that the new film will rely too heavily on computer-generated effects.
Are there concerns about Neil Marshall's ability to take on this project? Of course. Despite his critical and commercial success in the horror scene, it's worth mentioning that Marshall has never actually taken on a film quite as big as a Hellboy reboot, and he has never handled a big screen character quite as beloved as the titular demon. That said, there's an argument to be made that his unique resume represents an opportunity more than a drawback. As a relatively fresh face in the superhero scene with ample experience in smaller projects, Neil Marshall has the chance to break new ground in the comic book movie genre and put his unique stamp on Hellboy. Traditionally B-movie auteurs like Guardians of the Galaxy's James Gunn and Logan's James Mangold have similarly experienced great success by bringing new ideas into the comic book movie genre, so all eyes are on Marshall to do with same with Hellboy.
At the end of the day, there's no question that we're going to miss Guillermo del Toro's unique touch in the Hellboy franchise. Having said that, Neil Marshall's particular set of skills (coupled with the level of freshness that he brings to this franchise) has us incredibly excited to see what will happen to Hellboy next.
This poll is no longer available.
Your Daily Blend of Entertainment News
Originally from Connecticut, Conner grew up in San Diego and graduated from Chapman University in 2014. He now lives in Los Angeles working in and around the entertainment industry and can mostly be found binging horror movies and chugging coffee.