5 Things To Know About New Hellboy David Harbour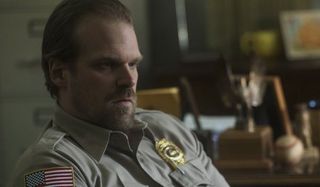 Fans have waited for years to find out whether or not a new Hellboy movie was actually going to materialize, and they finally got their wish. That said, there's a significant change being made to the iconic silver screen superhero. Beloved Hellboy actor Ron Perlman will not return to the part, and he will instead be portrayed by Stranger Things' David Harbour in an R-rated reboot directed by The Descent's Neil Marshall.
Although he's an actor who has been around for years, and even though his stardom has been on the rise since the debut of Stranger Things last summer, David Harbour hasn't necessarily become a household name just yet. In order to help you become more familiar with your new Hellboy, we have put together a list of things you should know about him before he dons the filed-down demon horns and red body paint. There's plenty of good stuff to get to, so let's start from the beginning and talk about David Harbour's origins as a theatre actor.
He Got His Start On Broadway
Although he has thrived on TV and film lately, David Harbour did not start his acting career in front of a camera. He has roots in the theatre world when he began acting professionally on Broadway in 1997 in a revival of The Rainmaker, and he even earned a Tony nomination in 2005 for Who's Afraid Of Virginia Woolf? It's hard to argue against the sheer value of on-stage experience when an actor is about to take on an incredibly outlandish character, and it seems likely that this time on Broadway will aid him in his performance as Hellboy. If he can bring a strong sense of theatricality, he will certainly be able to set himself apart from Ron Perlman's depiction of the anti-hero.
He Nabbed A SAG Award For His Work On Stranger Things
It's no secret that Stranger Things' Jim Hopper is currently the role that David Harbour is most well known for ahead of his casting as Hellboy. Not only have fans flocked to his portrayal of the rough around the edges sheriff, the Screen Actors Guild also acknowledged him (as well as his co-stars) for his work on the beloved Netflix series with an award for Best Performance by an Ensemble in a Drama Series. With that in mind, David Harbour brings an important sense of prestige to the Hellboy reboot that not every possible Ron Perlman replacement could've provided, and that prestige means we can count on a strong acting pedigree in this highly anticipated, R-rated reboot.
Hellboy Isn't David Harbour's First Superhero Project
While Hellboy is definitely David Harbour's first foray into leading man territory in the superhero genre, it is not his first time taking part in a comic book movie at all. He appeared in David Ayer's Suicide Squad as Task Force X supervisor Dexter Tolliver, and he also made an appearance in 2011's The Green Hornet as Scanlon. It pays to have experience in a genre before taking center stage in a comic book movie of your very own, and it seems highly likely that David Harbour's expertise with supporting roles in other comic book-oriented properties will serve him well to prepare him for his upcoming performance as Hellboy. Practice makes perfect, after all.
He Has Appeared In The James Bond Franchise
In addition to his previous work as a supporting actor in several different superhero-oriented projects, David Harbour has also appeared in another blockbuster franchise: the James Bond series. Specifically, he appeared in 2008's Quantum of Solace as a bumbling CIA agent named Gregg Beam --a counterpoint to Jeffrey Wright's Felix Leiter. Although it wasn't the most substantial role in Quantum of Solace (and it wasn't supposed to be), Harbour's performance as Gregg Beam serves as a solid reminder of the things he can do outside of the gruffer roles like Jim Hopper. He has an extensive degree of acting range at his disposal, and he knows how to put that range on full display in big budget action movies.
He Is Considerably Younger Than Ron Perlman Was In Hellboy
David Harbour actually shares a number of similarities to Ron Perlman in terms of sheer physicality and personality. Both are incredibly imposing, and both have the ability to inhabit delightfully gruff characters with gusto. The difference here is that, at 42, David Harbour is a full twelve years younger than Ron Perlman was the first time he portrayed Hellboy on-screen. It's not an enormous age difference, but it suggests the possibility that Harbour's relative youth will afford him the opportunity to portray this character for years to come if the rebooted Hellboy franchise manages to make a profound impact on audiences when it finally debuts. For fans of the old franchise, that's an exciting prospect.
This poll is no longer available.
Originally from Connecticut, Conner grew up in San Diego and graduated from Chapman University in 2014. He now lives in Los Angeles working in and around the entertainment industry and can mostly be found binging horror movies and chugging coffee.