Which Famous King Arthur Story Charlie Hunnam Really Wants To Tell Next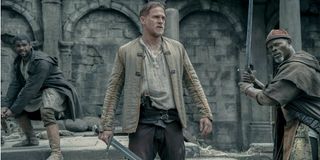 Now that King Arthur: Legend Of The Sword is finally in theaters, moviegoers can lap up and embrace Guy Ritchie's origin story for the mythical figure, which sees Charlie Hunnam taking on the titular role. But this is supposed to just be the beginning, and Guy Ritchie and Charlie Hunnam both have plans for where the franchise could head in its planned future installments. In fact, Charlie Hunnam already has his eyes set on one particular story that he believes would make a juicy King Arthur film. Charlie Hunnam admitted:
Charlie Hunnam made the above remarks to me just a couple of weeks ago when I sat down to talk about his work on King Arthur: Legend Of The Sword. Warner Bros obviously has big plans for the King Arthur franchise, as it was previously announced that Legend Of The Sword would be the first of a six film series that would explore the Arthurian legend and his Knights Of The Roundtable.
During the press junket for King Arthur: Legend Of The Sword, I also had the opportunity to discuss the future of the franchise with co-writer and director Guy Ritchie. After I asked The Man From U.N.C.L.E. and Snatch director if they still planned on making five sequels to the original, he answered in the affirmative and then teased that they'd also be looking to incorporate some hugely important figures into the next few films. Guy Ritchie remarked:
Because Legend Of The Sword is just the origin story of Arthur, which tracks his progress from the streets of Londonium to him prizing Excalibur out of the stone and beyond, there wasn't room for some of the most famous names from the Arthurian legend. But clearly if all goes according to plan, this is something that Charlie Hunnam and Guy Ritchie want to alter in the near future. You can check out a snippet from my discussion with Charlie Hunnam regarding King Arthur: Legend Of The Sword, and him explaining where the franchise might be heading, below.
King Arthur: Legend Of The Sword is now in theaters everywhere. But if you don't quite fancy it, and instead want to see what else is on the cinematic horizon, then you should check out CinemaBlend's full 2017 movie release date schedule for some tips.