Robert De Niro Took A Shot At His Own Comedies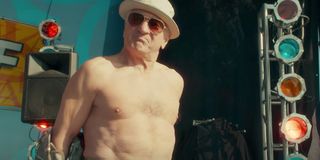 Robert De Niro has been in the acting business for more than fifty years at this point, and he has taken on plenty of iconic roles during that time. But for every Taxi Driver and Raging Bull role, De Niro has seen a dud or two, especially in the comedy sphere, as his movies, especially in recent years, have earned more critical ire. Speaking recently while accepting the Film Society of Lincoln Center's Chaplin Award, Robert De Niro took some shots at his body of work, specifically some of the comedy choices he has made, while also commenting on perspective and reception in general. Here's what he had to say:
Robert De Niro's comment pokes fun at a body of work that includes quite a few comedy duds while also defending Meryl Streep and complimenting movie greats like Charlie Chaplin, Martin Scorsese and Barry Levinson. It's a fitting perspective for a man who has taken a critical beating for movies you'd guess like Meet The Fockers and Dirty Grandpa but also for other, far more interesting films that polarized audiences and critics.
Early in Robert De Niro's career, an overwhelming majority of the movies he picked were praised by critics. His high points like The Godfather and Goodfellas are among the most treasured films ever made, but in recent years, many of his choices haven't gone over as well. Because of that, he's been able to see pretty much every perspective. In fact, in just the past several years, he was nominated for an Oscar and widely praised for his work in Silver Linings Playbook and accused of phoning it in while taking off his shirt and squirting suntan lotion on Aubrey Plaza's chest in Bad Grandpa.
More than anything else, what Robert DeNiro's award quote (via Page Six) illustrates is that the movie business is really hard, and critical praise is a funny and sometimes fleeting thing. To many people, Meryl Streep is the greatest actress of her generation. To others, she's "overrated." To many people, Robert De Niro should be praised for constantly trying to reinvent himself and taking a wide variety of roles. To others, however, he's an old guy, past his prime and relegated to making "dumb-ass comedies". You can't win 'em all. So, the best thing to do is have a sense of humor and role with the punches... or the suntan lotion.
Amazing Race & Top Chef superfan with a pinch of Disney fairy dust thrown in. If you've created a rom-com I've probably watched it.