Why That Guardians Of The Galaxy Vol. 2 Character Had To Die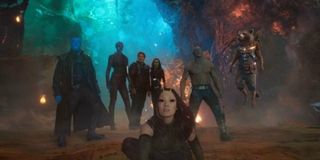 Warning: There are some heavy SPOILERS ahead for Guardians Of The Galaxy Vol. 2 that will instantly ruin the film for you if you haven't had a chance to see it. If that's the case, do yourself a favor and don't read ahead.
Guardians Of The Galaxy Vol. 2 ended up being a truly emotional film. Peter Quill not only learned that his real father Ego (Kurt Russell) was more of a villain than a patriarch, but he also finally realised that, while he wasn't his biological dad, his true pops was Yondu (Michael Rooker), who then died right at the end. It was quite the rollercoaster. It was just as traumatic for James Gunn when he was writing and directing the film, too. While it was a hard decision, James Gunn has now explained why it was necessary, insisting that if he hadn't killed off Yondu then the film would have been dishonest. Per the director,
James Gunn talked about killing off Yondu during a Facebook live chat over the weekend, and his comments made it perfectly clear just how hard a decision it was to kill off a character who has quickly become one of the most beloved in the Marvel Cinematic Universe. But this wasn't just about the character, it was also about Gunn's personal relationship with Michael Rooker.
Michael Rooker has been a mainstay of all of James Gunn's output as a feature film director, starting off with 2006's Slither. He then appeared in 2010's Super, and in between both Guardians Of The Galaxy films he even starred in The Belko Experiment, which James Gunn wrote. The thought of making a film without Michael Rooker was so heart-breaking for James Gunn that he almost pulled out of overseeing Vol. 3, as he even called the former Walking Dead star one of his "closest friends in the world."
However, the fact that Yondu's death in Guardians Of The Galaxy Vol. 2 symbolized what the entire film was about meant that he had no choice but to go through with it. During the online discussion, James Gunn admitted that the film is about a father's true love for their son, and how our real fathers and brothers transcend beyond blood. In order to do this story justice Yondu needed to die, otherwise James Gunn admitted that he would have been "backing out" of this thematic exploration. Considering that James Gunn also admitted that he has been inundated with messages from individuals that have been adopted and have step-fathers thanking him for his work on Guardians Of The Galaxy Vol. 2, it appears as though his decision to kill off Yondu was the right one, too.
Your Daily Blend of Entertainment News
Thank you for signing up to CinemaBlend. You will receive a verification email shortly.
There was a problem. Please refresh the page and try again.