When Michael Fassbender May Return To The X-Men Series As Magneto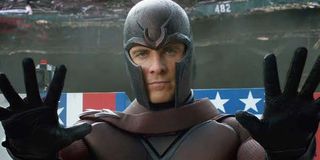 Erik Lehnsherr, a.k.a. Magneto, has been part of the X-Men film series since the beginning, with Ian McKellen first playing the character in live action and Michael Fassbender succeeding him as the younger iteration of the Master of Magnetism. With last year's X-Men: Apocalypse concluding the "First Class" era and and the franchise not focusing on Erik's relationship with Charles Xavier, it was unclear if Fassbender would reprise Magneto in another X-Men movie. Well to all the Magneto fans out there, you may be in luck, as we could see him back next year in X-Men: Dark Phoenix.
MTV reporter Josh Horowitz, who interviewed Michael Fassbender for a podcast coming out on Wednesday, suggested on social media that while the actor will not appear in the New Mutants spinoff, it's likely that he'll make some kind of appearance in X-Men: Dark Phoenix, the next installment of the main X-Men series. You can read Horowitz's tweet below.
The X-Men "First Class" trilogy did a tremendous job of fleshing out Magneto's backstory, from showing how he built his friendship with Charles Xavier to explaining what led him to become a proponent of mutant superiority. When we last Erik in X-Men: Apocalypse, he'd turned against Apocalypse, his former master, and helped the X-Men rebuild their mansion. However, he refused Charles' offer to stay with them and went off to parts unknown. That could easily have served as the end of Magneto's story, but evidently the X-Men cinematic universe could have something extra planned for him. Assuming Michael Fassbender does indeed appear in X-Men: Dark Phoenix, and keeping in mind that James McAvoy will likely reprise Professor X, that leaves Jennifer Lawrence's Mystique and Nicholas Hoult's Beast as the senior "First Class" X-Men characters whose involvement is still up in the air.
Like 2006's X-Men: The Last Stand, X-Men: Dark Phoenix will adapt The Dark Phoenix comic book storyline from the comics, and will see Jean Grey, played by Sophie Turner, being overtaken by the Phoenix Force. Jean Grey briefly unleashed the Phoenix power in X-Men: Apocalypse, and given the changes to the timeline post-X-Men: Days of Future Past, this story is expected to go in a much different direction. Beyond that, no details about the movie have been disclosed yet, including how many of Jean Grey's teammates seen at the end of X-Men: Apocalypse will return.
X-Men: Dark Phoenix hits theaters on November 2, 2018, but before that, X-Men fans have New Mutants and Deadpool 2 to look forward to. While we wait for confirmation on Michael Fassbender reprising Magneto, you can see him this weekend in playing the androids Walter and David in Alien: Covenant.
Your Daily Blend of Entertainment News
Connoisseur of Marvel, DC, Star Wars, John Wick, MonsterVerse and Doctor Who lore. He's aware he looks like Harry Potter and Clark Kent.