Why Transformers: The Last Knight Is An Improvement Over Age Of Extinction, According To Michael Bay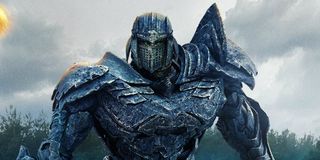 The Transformers franchise has always felt like an oddity in the realm of blockbuster action movies. It's a series that spent three installments with a very clear direction and cast of characters -- before ultimately upending its formula during the events of Transformers: Age of Extinction. That abrupt change made the fourth Transformers movie feel very distinct from its predecessors, and Michael Bay seems to think that feeling out how to make a Transformers movie without Shia LaBeouf as series lead Sam Witwicky wasn't the easiest task ever. Luckily, it allowed him to make an even better film with the upcoming release of Transformers: The Last Knight. Bay explained:
Losing your main star could easily scuttle an entire franchise, and Michael Bay's recent comments to Empire about his work on Age of Extinction don't shy away from that fact. Evolving the Transformers franchise in the wake of Shia LaBeouf's departure came with a very particular learning curve, and it wasn't until his more recent work on The Last Knight that Bay truly figured out where to take this blockbuster series. Having learned several valuable lessons from Age of Extinction, Bay now seems incredibly confident that he crafted something even better with The Last Knight.
To say that the Transformers series has evolved in recent years would be nothing short of a total understatement. The shape-shifting robot franchise has started to dive much deeper into the mythology of its titular, mechanical beings -- and tie that history in with our own human mythology. It's clear that Michael Bay wants to flesh out the backstory of the universe even more with the events in Transformers: The Last Knight and continue the story of Mark Wahlberg's Cade Yeager as the replacement for LaBeouf. Thank about it, if you could take Transformers: Age of Extinction back to 2007 and show it to audiences after the premiere of the original Transformers film, they might not even recognize the franchise.
Having said that, the Transformers franchise hasn't completely forgotten its roots. Although Shia LaBeouf isn't returning to the fray in The Last Knight, longtime members of the series such as John Turturro's Simmons and Josh Duhamel's William Lennox will get in on the action alongside Cade Yeager. This doesn't just help flesh out the human cast of the film; it also helps deepen the mythology of the franchise by weaving several different character arcs together. Clearly, those Age of Extinction lessons are starting to pay off for Mr. Bay.
All in all, things seem to have panned out nicely for Michael Bay, because Transformers: The Last Knight certainly looks like a unique entry in the franchise. Check out a trailer for the upcoming film below.
We will see how this new Transformers mythology comes together when The Last Knight hits theaters on June 21. If you're on the lookout for more information related to the rest of this year's most highly anticipated theatrical debuts, make sure to take a look at our movie premiere guide.
Originally from Connecticut, Conner grew up in San Diego and graduated from Chapman University in 2014. He now lives in Los Angeles working in and around the entertainment industry and can mostly be found binging horror movies and chugging coffee.
Your Daily Blend of Entertainment News
Thank you for signing up to CinemaBlend. You will receive a verification email shortly.
There was a problem. Please refresh the page and try again.