Why The Get Out Alternate Ending Was Better Left On The Cutting Room Floor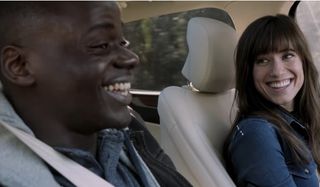 Warning: Massive spoilers for Get Out are an important part of this discussion. If you're not interested in spoiling the film for yourself, please come back after you've seen the film.
Jordan Peele's Get Out is one hell of a ride, and if you haven't seen the film, you definitely should. A slick, psychological horror film that puts pressure on still open wounds on the American consciousness, it probes and questions the subject of racism in a post-Obama era. On top of that, it does so with precision scares that don't overstay their welcome, and make for a truly chilling experience. And yet, for as brilliant as the film is, when the prospect of an alternate ending came up, we had to wonder, could it possibly top the existing ending in the film
Well, in our minds, no. It's an ending that still works, and you can see for yourself with the Digital HD version of the film on sale now. But Get Out is pretty much better for changing their ending, if only to make for a more entertaining film altogether. Nevertheless, we here at CinemaBlend like to talk things out, and show our work. With that in mind, please enjoy our deep dive into the sunken place of Get Out's climactic third act closures.
The Original Ending
After setting the Armitage house on fire and being pursued by Rose, Chris tries to flee by car, thus triggering the finish for Get Out's tense third act. Unfortunately for him, Grandma and Grandpa Armitage's avatars are on his trail, and the car is wrecked in the process. Grandma dies in the crash, while Rose eventually catches up to Chris's car, shotgun still in hand. Grandpa Walter runs in for the assist, but after Chris flashes him with his phone camera's flash, he temporarily disassociates with his body, leaving the original occupant back in control of his body for the time being.
Using this moment as a ruse, he takes Rose's shotgun from her, and shoots her instead of shooting Chris, then turns the gun on himself and commits suicide. With her bleeding body on the ground, Chris sets to strangling Rose, before a cop car pulls up on the scene. It turns out that Rod, Chris's TSA agent friend who put the pieces together and came to rescue Chris, providing a funny and relieving end to a tense horror film. However, that's not the only ending that Jordan Peele had in mind.
The Alternate Ending
The alternate ending for Get Out pretty much follows the same trajectory. Rose and her grandparents foil Chris's initial attempt to escape, Rose gets shot, and Chris tries to choke her out. However, once the police car arrives, the path starts to branch off from the original ending. In the alternate, darker cut, two white police officers see Chris as the culprit behind Rose's murder. What's worse, we find out that if there was ever a chance for Chris to prove he was the victim of the Armitage's Coagula scheme, there's two big factors that have doomed him to prison.
First, the house burned down, with the family all dead and the evidence up in smoke. But second, and more importantly, Chris's memories are now impaired and missing, undoubtedly thanks to the priming that Missy had done to start him down the path of the Coagula. Even Rod can't find a way out of this situation, and we see Chris go back to his cell, steeped in the fact that he can't do anything about his fate.
The Pros / Cons Of Both Endings
Now it's rare that we can say this, but technically there's no wrong ending to Get Out. We say this because the alternate ending doesn't kill the film that came before it, in fact it's the ending we all assumed was going to take shape, until Rod steps out of the car and saves the day. The changes made are small enough that it doesn't set th previous narrative on fire, but at the same time they do provide a different tone for the film as a whole.
If you go with the theatrical ending, Get Out is more of a thrill-ride that ends with a "Phew! We made it!" style ending, complete with a hell of a punchline by Rod. However, if you go with the alternate ending, the conclusion of the story maps more closely to our reality. Chris's situation gets very real, very fast; and though we can get behind the right kind of bummer ending, this might have been too much in too little time. It really depends on what type of film you're expecting out of Get Out, and judging by the film's success and positive buzz, folks want more of a thriller with a safe landing than one with a crash dive into reality.
Why The Theatrical Ending Is The Best
In our honest opinion, the theatrical ending was the better option. After being put through the ringer of such a stylish horror/thriller as Get Out, the more entertaining ending seals the film as a verified thrill ride, that still packs a socially conscious punch. When our own Eric Eisenberg got to speak with writer/director Jordan Peele to get his feelings on why he'd changed the ending, Peele's rationale was explained thusly:
We couldn't have said it better ourselves. If you set this film back a couple years, during a more tumultuous time in American history, this would have been a hell of a protest film, all because of that alternate ending. But after the Obama presidency and the evolution of civilization moving past some of the issues we'd had with racism in our past, Peele realized that the movie didn't need to be a stark punch to the gut. iI needed a hero to root for, and an ending that released some of the pressure from the events we saw unfold.
While the alternate ending is still fun to watch and turns Get Out into a dismal bummer of a horror flick, giving Rod that final act of heroism not only throws some points towards law enforcement, it gives the audience a chance to breathe. Thankfully, neither ending ruins the film, and you can see Get Out, with both endings, on Digital HD currently, with the Blu Ray / DVD coming this Tuesday.
This poll is no longer available.
CinemaBlend's James Bond (expert). Also versed in Large Scale Aggressors, time travel, and Guillermo del Toro. He fights for The User.
Your Daily Blend of Entertainment News
Thank you for signing up to CinemaBlend. You will receive a verification email shortly.
There was a problem. Please refresh the page and try again.