One Major Change Mark Hamill Wishes J.J. Abrams Had Made To Star Wars: The Force Awakens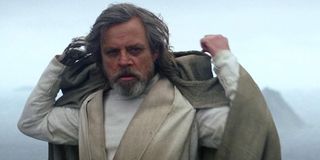 While the decision to only feature Luke Skywalker right at the end of Star Wars: The Force Awakens now feels ingenious, as fans can't wait to finally catch up with the character in Rian Johnson's Star Wars: The Last Jedi, you can't help but feel a pang of regret that we didn't get to see more of the character in the 2015 film. It turns out Mark Hamill feels exactly the same way, too, and he's now explained how he would have had Luke Skywalker return for one of the key moments of The Force Awakens, as he believes Luke should have seen Han Solo killed by Kylo Ren. Hamill explained,
You can't really deny that the above would have been impactful stuff. During Mark Hamill's interview with Vanity Fair he went on to add even more details about why the above would have worked so tremendously, and why he is still so adamant that it should have been included. Mark Hamill went on to explain that he thinks Luke Skywalker and Princess Leia witnessing Han Solo's death would have added an emotional heft to the upcoming The Last Jedi, remarking,
Again, can't really argue with Mark Hamill's logic there. However, I believe that J.J. Abrams and the Star Wars team were playing the long game by keeping the Luke Skywalker reveal right to the end of the film. Just imagine if within the space of two minutes we suddenly saw Luke Skywalker return after seemingly being missing for years, and then Han Solo die, too. I don't think my poor little heart could have taken it, but I am also certain the series would have rapidly dropped off in quality, because how could you even possibly top that series of events? Instead, Luke Skywalker's return was saved for the final moments, which gave The Force Awakens a rousing conclusion and final shot, and immediately made fans pine for The Last Jedi, too. Which we'll finally get to see on December 15.
This poll is no longer available.
Your Daily Blend of Entertainment News