The Internet Is Trolling The Last Jedi's Poster, And It's Awesome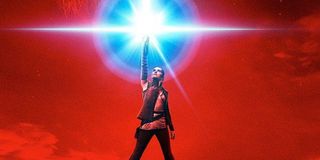 For those of us who are looking forward to The Last Jedi (a.k.a the entire world) this weekend has been a massive event. Not only did we get our first glimpse at the first official trailer for Rian Johnson's upcoming movie, but a genuinely amazing poster was also released to accompany it. That said, the poster quickly took on a life of its own, as fans started producing hilarious variations of it. Check out an example below to see for yourself.
I don't know much, but I do know that I want a sequel to John Woo's classic film, Face/Off, in which Nicolas Cage and John Travolta fight with lightsabers. That's a hit waiting to happen. The beauty of The Last Jedi poster lies in its overwhelming simplicity -- which means that it takes a minimal amount of effort to create high-quality, inventive works of art.
You can see another example of that on display in the Me, Myself, and Irene parody below:
Another fan-edit of The Last Jedi's poster takes everyone's favorite zombie-themed TV show and gives it the Star Wars treatment. Check out the fan poster for The Walking Dead's eighth season below to see for yourself.
If Rick Grimes manages to lose his hand at some point during Season 8 of The Walking Dead, then the whole situation will come full circle. The show has been in the process of telegraphing that for quite some time, so maybe we will soon see the elder Grimes go down the same path as Luke Skywalker and become a bonafide amputee.
Of course, while all of the above posters are cool fan-edits, someone else on the internet had the gall to go ahead and make a version of The Last Jedi's poster that should never see the light of day. Check it out below and prepare to be thrown into a fit of rage.
Note to Lucasfilm and Disney: keep that gungan as far away from the new Star Wars films as possible. We never want to see him show up on a real poster for a canon story.
These poster edits are merely the latest in a long line of fan contributions to the Star Wars lore. Over the years we have all developed deep connections with this franchise, and that has led many fans to add their spins to the overarching Star Wars mythos. These contributions include cosplay, fan cuts of the films, even homemade Millennium Falcons. Star Wars is the type of universe that demands immersion, and it's pretty clear that fans are always ready to answer that call whenever the opportunity presents itself.
All of these fan-edits are great, but they still have nothing on the real poster for The Last Jedi. The latest Star Wars film will make its long-awaited theatrical debut later this year on December 15, 2017. Here's everything we know about the eighth installment in the Skywalker family saga.
Your Daily Blend of Entertainment News
Originally from Connecticut, Conner grew up in San Diego and graduated from Chapman University in 2014. He now lives in Los Angeles working in and around the entertainment industry and can mostly be found binging horror movies and chugging coffee.