The Truman Show Is The Unlikely Inspiration For One Famous Album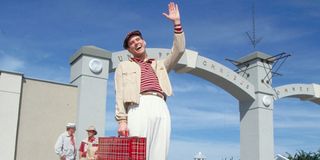 The Truman Show has held up in the decades since its 1998 release, thanks to being a cleverly premised sci fi comedy featuring a great performance from Jim Carrey. However, it's also apparently an influential movie, as Eminem just revealed his 2002 album The Eminem Show actually came together thanks to the Peter Weir movie, and the rapper recently paid homage to Carrey and the film with a lovely post. He said:
I don't know how I've gone 15 years without noticing The Eminem Show is titled similarly to The Truman Show, but it did happen, and here we are. The album's apparently about Eminem feeling watched when he was at his most famous, and the album actually sold over 30 million copies worldwide and was his third record in four years to win Best Rap Album at the Grammys. If that doesn't indicate how famous he was, and how much he was scrutinized at the time, I don't know what would.
I'm personally not really like Eminem in a lot of ways. I don't love the word bitch. I'm female. And I would never, ever dye my hair the color blonde his is known for. But I did grow up in a blue collar town, and Eminem was everywhere. The Eminem Show, with tracks like "Hailie's Song," "Till I Collapse," "Sing for the Moment" and "Without Me" did resonate at the time, even if it's an album that is less about the rapper's roots and more about fame and the Eminem's changing role in society, and it's interesting to hear Eminem acknowledge it's those changes brought on by fame that really made The Eminem Show the album it was.
As for The Truman Show, the movie had a huge effect in a lot of different ways. It proved to us that Jim Carrey could be funny and still make a serious movie. It's a film that at the time won or was nominated for a lot of awards, and is still available--and watched--on cable and streaming services. It's not a huge surprise that Peter Weir's movie had an effect on people, but it is pretty cool that it inspired one of the biggest rap albums of the early 2000s.
So, I guess, thanks Jim Carrey?
The Eminem Show can currently be found on Spotify. (I know because I listened to it while writing this.) The Truman Show is currently streaming on Amazon. If you haven't given it a watch in a while, it still holds up. It did inspire a popular album, after all...
Amazing Race & Top Chef superfan with a pinch of Disney fairy dust thrown in. If you've created a rom-com I've probably watched it.
Your Daily Blend of Entertainment News
Thank you for signing up to CinemaBlend. You will receive a verification email shortly.
There was a problem. Please refresh the page and try again.