Watch This Hilarious Supercut Of Jim Carrey Falling Down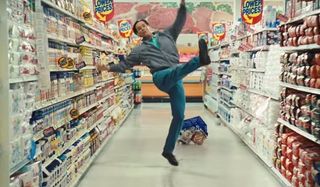 With all of the negative press surrounding Jim Carrey and his views on vaccinations, the world needs a reminder of what Carrey's powers can do when they're used for good. Which means, it's time for a supercut montage of some of the best moments featuring his specialty: the pratfall. Please enjoy, and join us as we remember those simpler, much funnier times.
Thanks to YouTube user Shawn Kohne, we now have a comprehensive run down of the main types of Carrey pratfall. Jim Carrey fans of yesteryear will recognize a lot of the same laughs that made films like Ace Ventura: Pet Detective, The Mask, and even The Cable Guy into well known staples of many DVD shelves and cable TV networks. Since it's been a while since films like those ruled Carrey's filmography, allow us to give you a refresher course in the Carrey Pratfall.
The first type is the most basic, which is the self-induced attention-grabbing pratfall. We'll call this one "the grabber" for practical purposes. Carrey was known for using this one in a lot of his earlier material, as shown in the clips from his earlier stand up and In Living Color appearances we see in the montage. The funniest part about a typical Carrey grabber is the way he whips his head forward, gathering enough momentum to knock himself on his own ass. And if he's grinning like an idiot when he does it, you can bet it's pure gold.
The second Jim Carrey pratfall is one that characterizes the middle phase of his career, especially during the success of such films as his Ace Ventura duology, and was especially on display in one legendary scene from 1997's Liar, Liar. This is, of course, the "ass kicker" pratfall, which sees Carrey at the business end of physical harm. Sometimes it's one person, or even a group of people, applying such an ass kicking to Carrey, but on occasion, it's Carrey himself that's beating the tar out of his own wirey frame.
While the montage opens up with one such incident from Carrey's little seen turn in I Love You, Phillip Morris, we can't help but think once more of Liar, Liar. You know exactly the scene we're thinking of, so we're just going to share it below and let you enjoy reliving a piece of the '90's we call home.
Last, but not least, is "the knee slammer" -- a Carrey classic that never gets old. Now this variant can sometimes take a turn that makes it look like an "ass kicker," especially when Jim Carrey suffers an injury or hit that triggers him falling down onto his knees. But this pratfall is best when it's actually Carrey who initiates the drop, as it's usually a sign that his zany character is trying to make amends in as exaggerated a way as possible.
No matter how or why Jim Carrey is getting his cosmic ass thrown around for our amusement, you have to give the man credit for being an expert in physical comedy. While his medical expertise leaves a lot to be desired, we can take comfort that if he ever retires from his career of public service – he'll probably still be able to take stage self-abuse like a champ.
Jim Carrey is currently working on The Bad Batch, which is penciled in for a tenative 2016 release, as well as the thriller True Crimes.
CinemaBlend's James Bond (expert). Also versed in Large Scale Aggressors, time travel, and Guillermo del Toro. He fights for The User.
Your Daily Blend of Entertainment News
Thank you for signing up to CinemaBlend. You will receive a verification email shortly.
There was a problem. Please refresh the page and try again.