New Mutants: What We Know So Far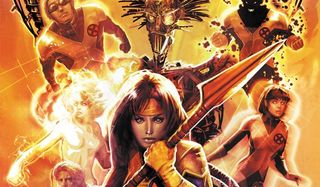 The X-Men franchise is seriously expanding. It's true that we will no longer see any more Wolverine movies, but thanks to the success of Deadpool, 20th Century Fox has started developing big plans for the future of its flagship comic book series. A huge part of this equation is the New Mutants film that has been in development for a couple of years, and now that project is less than a year away from release. But what exactly is New Mutants? The answer to that question is what we're here to provide.
As we do with all major upcoming releases, the following What We Know So Far guide has been constructed as a means of collecting all of the information that is currently available about the New Mutants movie. When is it coming out? Who is directing it? Who are the main characters? We address all of those queries and more below, so read on... but first, give the teaser trailer a watch!
What Is The New Mutants Release Date?
While 2017 marked the first year that Marvel Studios had three comic book movies in theaters, 20th Century Fox's X-Men franchise was trying not to lag too far behind. The studio announced plans to have their own trio of blockbusters in 2018 -- with the first on the docket being New Mutants, which had a release date of April 13, 2018. Unfortunately, two big scheduling changes in early 2018 lead to New Mutants getting pushing back twice by the studio by the time early April rolled around. First, the film was pushed to February 22, 2019. Then, a couple of months later, the horror-themed superhero film was delayed again, this time until August 2019. The 1990s-set X-Men: Dark Phoenix was also moved into 2019, meaning that the only X-movie fans will see in 2018 will be David Leitch's Deadpool 2.
While an August debut might seem a bit late to capture the attention of comic book movie fans, let's remember that Guardians of the Galaxy hits screens on August 1, 2014, and matching the success of that film would certainly be considered a big win for The New Mutants.
What Is The New Mutants Rating?
Unlike the other major comic book movie franchises, the X-Men titles are the first to really experiment when it comes to exploration of different ratings. Most of these films stick to PG-13 as a way of ensuring that teenage fans can buy tickets, but both Deadpool and Logan have proven that there is a whole lot of money to be made making these titles strictly for adults. Because of these successes, it's entirely suspected that 20th Century Fox will continue making R-rated superhero flicks for many years to come... but it doesn't look like The New Mutants will be one of them.
The MPAA doesn't actually hand down a movie's rating until the nearly-completed product is getting ready to arrive in theaters, but there hasn't been any indication that The New Mutants will be aiming for a restricted label. As we will get into later in this article, the film is expected to feature a few shocks and scares, but signs have been pointing to this blockbuster getting made with audiences 13 and older in mind.
Who Is The New Mutants Director?
Looking at the past work of director Josh Boone, you might not necessarily pin him as the director of the next great superhero blockbuster. After all, he made his directorial debut in 2012 with the romantic comedy Stuck In Love, and primarily found himself garnering a lot of attention for his 2014 hit cancer drama The Fault In Our Stars. It turns out, however, that Boone is actually a big-time comic book fan, and utilized that passion to land the New Mutants directing gig.
Josh Boone first became attached to the X-Men blockbuster when it was first announced back in May of 2015, and has been working towards getting it made ever since (with only his plans to adapt Stephen King's The Stand serving as a distraction). Now, however, he has cleared his schedule, and is using 2017 as his year to bring The New Mutants to life on the big screen.
Danielle Moonstar a.k.a. Mirage
It was revealed in November 2016 that the New Mutants movie would adapt one of the comic series' most notable arcs, The Demon Bear -- and from this we can glean that Danielle Moonstar will be the central character in the upcoming film. And while we don't yet know who will be playing the mutant heroine in Josh Boone's blockbuster, we can get a solid idea of what to expect from the movie in general by exploring Moonstar's role in the story.
Danielle Moonstar is a Native American mutant with a number of impressive mental powers -- including telepathy and psionic abilities -- but they manifested in a rather horrific way when she was a young girl. Specifically, she caught a psychic glimpse of her parents being killed by a demonic bear -- and then a few weeks later both her mom and dad disappeared. She was taken in by her magically-inclined grandfather, Black Eagle, and while she continued to have nightmares about the Demon Bear, they were kept at bay thanks to Black Eagle's spells.
These horrific dreams return to Moonstar during her tenure as a member of the New Mutants team, but rather than repressing them, she prepares to take on the evil ursine. Unfortunately for her, this horrific entity proves to be far more than she can face by herself, and she turns to her teammates to assist her in her battle.
It was only just about a week before the start of production on New Mutants that the film cast its star to play Danielle Moonstar, but at least they got it done under the wire. In early July 2017, it was reported that the comic book movie blockbuster had hired newcomer Blu Hunt to take on the key role in the 2018 flick. The film will actually be her big screen debut, though she does have some notable experience in that she plays a recurring role on the CW series The Originals.
Rahne Sinclair a.k.a. Wolfsbane
Thanks to Mystique and Beast in previous X-Men movies, fans have seen plenty of mutants who have the ability to physically transform on the big screen... but Wolfsbane's particular power is a tad more traditional than what we've seen. After all, she is basically a mutant lycanthrope -- able to either turn herself into a human/wolf hybrid or go full wolf-mode.
Like most of the New Mutants team, Wolfsbane a.k.a. Rahne Sinclair was created by Chris Claremont and Bob McLeod, and her backstory involves a strictly religious upbringing in Scotland that was followed by horrific persecution. She was nearly burned at the stake, but was rescued and eventually adopted by Moira MacTaggert (who was played by Rose Byrne in X-Men: First Class and X-Men: Apocalypse). Sadly, at this stage we don't know how much of this narrative will find its way into the New Mutants movie.
What we do know, however, is the identity of the actress who will be playing the first live-action version of Wolfsbane. It was reported all the way back in April 2016 that Game of Thrones star Maisie Williams was being considered for the part, and Josh Boone basically confirmed the casting himself in February 2017 by posting concept art of a part-wolf Williams. Considering that the writer/director has been discussing the horror elements of the movie he wants to make, hopefully we can expect some very cool transformation sequences.
Illyana Rasputin a.k.a. Magik
Actress Anya Taylor-Joy caught a lot of people's attention extremely fast thanks to her fantastic performance in the 2015 indie horror movie The Witch, and her star has only been rising ever since. She played the lead role in M. Night Shyamalan's 2017 hit Split -- and now she is confirmed to be a part of her second superhero franchise. It has been confirmed that Taylor-Joy will be playing Magik a.k.a. Illyana Rasputin in Josh Boone's New Mutants.
If that last name looks familiar (beyond the notorious Russian mystic), it's because Magik is actually the younger sister of Piotr Rasputin a.k.a. the metal-covered mutant Colossus. They grew up together in Russia, though Illyana was kidnapped and brought to the United States when she was only six years old. It was after her rescue that she was first brought to the X-Mansion - though she spent most of her adolescence in the Limbo dimension being trained in the ways of magic and combat.
It was after leaving the Limbo dimension that she returned to Earth and joined the New Mutants (she was 10 years older than when she left, but no time had passed since her departure). In addition to her learned skills, her mutant power allows her to teleport -- though what sets her apart from, say, Nightcrawler, is that she can teleport through both space and time, both future and past. It's not a power that's easily controlled, and significant screw-ups have occurred -- but that should just make for great story fodder in the New Mutants movie.
Bobby da Costa a.k.a. Sunspot
Most of the characters who will make up the titular team in The New Mutants will be making their live-action debut -- but Sunspot is the exception. Director Bryan Singer enlisted actor Adan Canto to play the part in X-Men: Days of Future Past, using him as one of last surviving mutants in a future that has been destroyed by the Sentinels. Of course, the timeline shift that occurred at the end of that movie means that he's technically not part of the canon anymore, which opens up the possibility to use him in Josh Boone's New Mutants.
Hailing from Brazil, Sunspot a.k.a. Roberto "Bobby" da Costa has the mutant ability to soak in solar power and redirect it. While he ordinarily looks like a normal person, when he is in his energized state his entire body turns into a non-reflective black color, allowing him to most efficiently absorb the sun's energy. Actor Henry Zaga, who recently earned attention for his part in the Netflix series 13 Reasons Why, will be playing the part in The New Mutants, and the project will be his biggest to date. We're excited to see what he does with it.
Sam Guthrie a.k.a. Cannonball
As far as adapting mutant powers for the big screen, the introduction of Cannonball in New Mutants should be quite interesting. In the most basic terms, he has the power to fly at super speeds -- but what makes that possible is that he can release thermo-chemical energy from his skin, and basically turn the lower half of his body into a jet propulsion system. Because of this, he can fly around incredibly fast, create blast fields, and really just kick all kinds of ass.
So who will be playing the southern-fried, Kentucky-born mutant in New Mutants? For a long time it was suggested that the role could go to Nat Wolff, who previously worked with Josh Boone on The Fault in Our Stars, but that rumor hit the wastebasket in May 2017. Instead, it looks like Cannonball a.k.a. Sam Guthrie will be played by Stranger Things star Charlie Heaton. Can he pull off the accent? We'll find out soon enough!
Dr. Cecilia Reyes
Initially it was expected that Rosario Dawson would be playing the role of Dr. Cecilia Reyes in The New Mutants - the actress previously having a close relationship with comic book material through projects like the Marvel Netflix shows and the animated Wonder Woman movie. Scheduling conflicts forced her to drop out, however, leaving the production with a casting gap to fill. Fortunately, they landed on the talented Alice Braga to play the part.
As you would expect, Dr. Cecilia Reyes is a mutant herself, in addition to being a doctor, and was introduced to Marvel Comics in 1997. Her special ability is the creation of psioplasmic bio-fields... which basically means that she can generate an incredibly strong energy barrier around herself that can protect her from outside attack. It's worth noting that she doesn't really have a big connection with the New Mutants in the source material, but this would hardly be the first time details were fudged in an adaptation. Based on the trailer, it looks like she will be the primary caretaker for the titular characters as they adjust to their dangerous abilities.
Your Daily Blend of Entertainment News
Assistant Managing Editor
NJ native who calls LA home and lives in a Dreamatorium. A decade-plus CinemaBlend veteran who is endlessly enthusiastic about the career he's dreamt of since seventh grade.
Your Daily Blend of Entertainment News
Thank you for signing up to CinemaBlend. You will receive a verification email shortly.
There was a problem. Please refresh the page and try again.