Upcoming Johnny Depp Movies: The Full List Of His Projects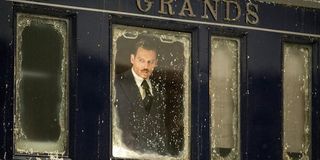 The idea of the "movie star" has been dwindling over the years, as actors have become less and less of a draw to bring people into the theaters. But if there is anyone who is still capable of creating headlines, it's Johnny Depp. The A-list actor became memorable for the slightly off-kilter characters he'd portray on screen, from Edward Scissorhands to his most famous role as Captain Jack Sparrow. Depp likes being quirky and, for better or worse, it's made him one of the most sought-after actors in Hollywood.
True, we could debate over the various peaks and valleys his career has experienced over the years, but it can't be argued that Depp doesn't leave his mark. The Pirates of the Caribbean actor knows how to keep himself busy, starring in as many as three more films before 2017 is even finished! Beyond that, he has numerous projects waiting in the wings over the next few years, so we thought we'd make it a lot easier for all you Depp fans to keep track of what he's got coming down the pipeline -- whether that project is officially happening or if it's just a rumor from three years ago. Here are the Johnny Depp movies you can start looking forward to.
London Fields
Status: Heading to Theaters (maybe)
If you're a fan of following Hollywood trainwrecks, then you might already be familiar with London Fields. Based on a novel of the same name, London Fields was originally supposed to have released in 2015, but lawsuits between director Mathew Cullen and the movie's producers over an unapproved cut including 9/11 imagery have kept this film from seeing the light of day. The movie actually has a good cast with Amber Heard, Cara Delevingne, Billy Bob Thorton, Theo James, Jim Sturgess, and Jaimie Alexander, but that hasn't helped it any. Johnny Depp had a cameo role in the film, but many of the actors have been distancing themselves from the movie, and Depp is listed as an "uncredited cameo" on IMDb. Yeesh.
Release date: 2017
LAbyrinth
Status: Headed to Theaters
Johnny Depp stars in LAbyrinth (not a typo, actual title), a biographical crime thriller about the murders of hip-hop artists Tupac Shakur and the Notorious B.I.G. Depp plays disgraced detective Russell Poole, who failed to solve the murders of the two men. Nearly 20 years later, he'll team up with a reporter to finally uncover the truth. It's certainly more down to Earth than some of Depp's other roles, and if done correctly, this could be something to pay attention to. The film also stars Forest Whitaker and is directed by Brad Furman.
Release date: 2017
Murder on the Orient Express
Status: Headed to Theaters
Now, here's a movie to watch out for thanks in no small part to its epic cast and creative team. Based on the classic Agatha Christie novel, Murder on the Orient Express follows a detective, Hercule Poirot (Kenneth Branagh, who also directs), who must solve a murder on a train ride where every passenger is a suspect. In addition to Johnny Depp as Edward Ratchett, the film stars Daisy Ridley, Marwan Kenzari, Lucy Boynton, Derek Jacobi, Josh Gad, Judi Dench, Penélope Cruz, Olivia Coleman, Willem Dafoe and Manuel Garcia-Rulfo to only name a few. Yeah, this movie is dripping talent and Depp fits into the ensemble of this quite nicely.
Release date: November 10, 2017
More Information
Sherlock Gnomes
Status: Filming
Remember that animated Gnomeo and Juliet movie about the garden gnomes falling in love? With the title that made everyone on Earth groan? Well, apparently, it was something of a sleeper hit and it's getting an equally groan-inducing sequel called Sherlock Gnomes (one day they're going to run out of convenient literary puns). Johnny Depp voices the titular Sherlock, so we should expect this one to be quite silly, which Depp is good at doing. James McAvoy and Emily Blunt reprise their roles from the first movie. Depp proved his voice-acting chops in the delightful Rango, so if nothing else, it's something for the kids to enjoy.
Release date: March 23, 2018
More Information
Fantastic Beasts and Where to Find Them 2
Status: Pre-production
Johnny Depp joined the Harry Potter Universe in the prequel Fantastic Beasts and Where to Find Them as the dark wizard Grindelwald. A key part of the backstory of Albus Dumbledore and Potter-lore, Grindelwald showed up right at the end of the film, only offering a brief tease that there was more to come. Depp will continue to terrorize the Wizarding World for the foreseeable future and will next be seen in Fantastic Beasts and Where to Find Them 2 with assumedly a much bigger part. You don't hire an actor like Depp and then sideline him, so we can expect lots of crazy stuff as Depp goes full-on evil wizard.
Release date: November 16, 2018
More Information
The Invisible Man
Status*: Announced*
Universal is getting in on the cinematic universe game by building one using their repertoire of iconic movie monsters. The studio is hitting the ground running and recently announced some of the key figures of its "Dark Universe," with Johnny Depp signing on to star in The Invisible Man. The original film featured a scientist who irreversibly turns himself invisible, driving himself mad and embarking on a quest for world domination. As one genius on the internet said, Depp will finally be fully represented on screen with nothing but a silly hat and a scarf. This film will likely arrive sometime after The Bride of Frankenstein hits in 2019.
The Libertine
Status: Announced
You big time Depp fans may see The Libertine and think "Wait, didn't he already make this movie?" Yes, in 2004. This time, though, Johnny Depp is starring in an entirely different movie that just so happens to share the same title -- for now. They likely won't want to keep the same title as another Depp-starring film. Directed by Brett Ratner, the story is about a French politician who endures house arrest in a luxury NYC suite while awaiting trial for sexual assault.
King of the Jungle
Status: Announced
This is one of those films where the story is just too weird to be true, but apparently, it very much happened. Based on an article from Wired called "John McAfee's Last Stand," King of the Jungle tells the true story of how John McAfee, creator of the McAfee anti-virus software, packed his bags, cashed in his checks, and started a "General Kurtz-like" compound in the jungle in Belize. Debauchery, murder, and madness follow in short supply. Johnny Depp stars in the movie (which seems like it was tailor-made for him) as McAfee, while Glenn Ficarra and John Requa direct.
Richard Says Goodbye
Status: Announced
Johnny Depp gets to stretch his comedy chops once again in the recently announced film, Richard Says Goodbye. Directed and written by Wayne Roberts, Depp plays the titular Richard, a college professor who gets a life-changing diagnosis and proceeds to throw caution to the wind and live as he sees fit -- i.e. smoking, drinking, and insulting anyone he wants. Depp is no stranger to playing characters who indulge in their respective vices, so this one sounds right up his alley.
The Secret Life of Houdini: The Making of America's First Superhero
Status: Rumored
The last time anyone reported on this movie was back when it was first announced in 2014, so it's not clear if this one is still in the cards. Johnny Depp was apparently in negotiations to star as the legendary Harry Houdini but with a twist. In addition to being a master escape artist, the story would have portrayed Houdini has an explorer of the world of the occult. The move was pitched as being similar to Indiana Jones which is nerve a bad thing to compare yourself to. Red 2's Dean Parisot was set to direct. The project sounds cool, but three years without word doesn't really spell good news for its future.
Moose Jaws
Status: Rumored
Kevin Smith has been doing whatever the hell he wants with his Great North trilogy, a series of horror films set in Canada. So far we've gotten Tusk (where a man is turned into a walrus) and Yoga Hosers (evil Nazi bratwursts). Moose Jaws (Jaws, but the shark is a moose) is set to end the trilogy. Johnny Depp appeared in the first two films as the same character and was apparently down to get eaten by a moose in the third. There haven't been a lot of developments on this project recently, but it's supposedly still in the works. This is an odd one for sure...but are you really going to turn down seeing Johnny Depp being devoured by a moose?
Your Daily Blend of Entertainment News
Matt has lived in New Jersey his entire life, but commutes every day to New York City. He graduated from Rowan University and loves Marvel, Nintendo, and going on long hikes and then greatly wishing he was back indoors. Matt has been covering the entertainment industry for over two years and will fight to his dying breath that Hulk and Black Widow make a good couple.
Your Daily Blend of Entertainment News
Thank you for signing up to CinemaBlend. You will receive a verification email shortly.
There was a problem. Please refresh the page and try again.