Weekend Box Office: One Hero In Undergarments Flops, The Other Shatters The Box Office Glass Ceiling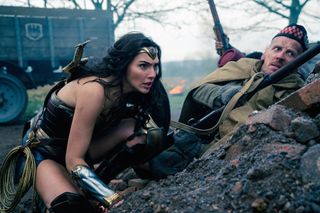 This weekend the box office top ten saw the arrival of not one, but two heroes who opt to fight, for questionable reasons, in their undergarments.
Wonder Woman, the latest offering from the DC Comics movie factory, smashed into the number one spot with just over $100 million, the third movie this year to open in triple digits (along with Guardians of the Galaxy Vol. 2 and the Beauty and the Beast remake). The movie marks not only the highest opening for a female superhero flick, it's the highest opening for a movie directed by a woman.
With all those steps forward for the female side of filmmaking, it's interesting to note the main character still has to go strapless and sleeveless with chest armor that lifts and separates. Maybe if those indestructible bracelets of submission came with matching sleeves and pants she wouldn't have to work so hard?
The other underwear-clad hero, Captain Underpants, made an underwhelming second place debut with just $23 million. That's a dip for DreamWorks Animation whose other past features, including The Boss Baby and Trolls, managed openings closer to $50 million.
Pirates of the Caribbean: Dead Men Tell No Tales followed up its disappointing (but not unexpected) $62 million start last weekend (the lowest of any Pirates sequel) by pushing past the $100 million mark this weekend.
After nine weeks in the top ten (most movies average fewer than 6) The Boss Baby dropped out of the top ten, giving it the second longest top ten run of the year so far, just behind the Beauty and the Beast remake and its impressive ten week stretch (eleven if you count the full Memorial Day weekend holiday weekend).
Your Daily Blend of Entertainment News