More Theaters Have Banned Netflix's Okja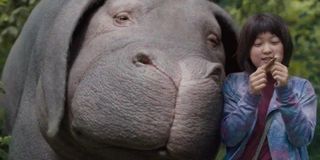 The Netflix and movie theater war has ratcheted up another notch after it was announced that cinemas across South Korea are going to ban the screening of Okja. This will be a hammer blow to director Bong Joon-ho, who hails from the country, while Netflix is probably just as perplexed considering that the original plan was for Okja to hit Netflix and cinemas in the US, UK, and South Korea all on the same day at the end of the month.
This has now been scuppered after it was announced that South Korea's three biggest cinema chains, CJ CGV, Lotte Cinema, and Megabox, wouldn't be showing Okja in theaters. Considering that CGV is the biggest exhibitor in all of South Korea, and owns 139 out of the country's 335 cinemas, you can see why this is quite the issue for Netflix and for Okja. CJ CGV has provided a reason why it has taken this rather drastic action, insisting that if the theater chain did release the film it would wreck the "distribution order." CJ CGV is still game for working with Netflix films in the future, per Deadline, but the company has suggested that changes need to be made for that to happen.
Meanwhile, South Korea's second biggest chain, Lotte Cinema, has its own suggestions for Netflix. Lotte Cinema is willing to screen Okja on the desired date, but only if Netflix delays streaming it. Both of these cinemas are insistent that this is the only way to maintain the survival of local theaters. Megabox, which gets the bronze medal when it comes to the measurement of South Korea cinema chains, also told The Korea Times that it will won't screen a film on the same day that it is released on Netflix, too.
All of which means that Netflix and these three South Korean cinema chains are in quite the stand-off. Especially because Netflix is just as adamant that it wants Okja to be released on the platform and in cinemas on the same day. With Okja not due to be released until June 29, there's still enough time for an agreement to be worked out. But it really looks as though neither of the parties involved are actually willing to budge on the matter. Which is a risky maneuver from Netflix considering that it has just spent $60 million on the film. You can see what all the fuss is about by checking out the trailer for Okja, which revolves around a giant pig and stars Tilda Swinton, Jake Gyllenhaal, and Paul Dano, below.
This conflict is just the latest in a long list of spats between Netflix and movie exhibitors, which last month saw French cinemas furiously react to both Okja and The Meyerowitz Stories being in contention for the Cannes Film Festival's Palme d'Or. Expect plenty more stories of a similar ilk to appear before the issue comes anywhere near to being resolved.
Your Daily Blend of Entertainment News
Your Daily Blend of Entertainment News
Thank you for signing up to CinemaBlend. You will receive a verification email shortly.
There was a problem. Please refresh the page and try again.