Will Top Gun 2 Have A Volleyball Scene? Here's What Tom Cruise Says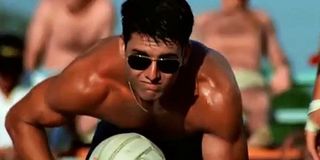 There are a lot of iconic moments from eighties films, and at least a few of them come from the famous Tony Scott movie Top Gun. Now that Top Gun 2 aka Top Gun: Maverick is coming together, a lot of people are wondering what to expect from the new project, and whether any iconic moments, from the volleyball scene to the epic rendition of "You've Lost That Lovin' Feeling" will be nodded at in the new movie. If you are a fan of seeing a bunch of tanned dudes playing volleyball, you may be in luck. Recently, Tom Cruise went out on a limb to say a volleyball scene is being considered for the new movie. He said:
Cruise is joking when he says he hasn't said more about the movie. We already know the new movie will pick up more than three decades after the first movie, and will deal with modern technology but be a "progression" for Maverick. However, that should still leave plenty of time for some nostalgic scenes, hopefully like the volleyball scene, and it's nice to know that Tom Cruise and co. are at least considering the possibility. Cruise might be in his mid-fifties at this point, but he looks pretty darn good for someone his age. It wouldn't totally shock us to see him lather on some baby oil for old time's sake.
A while back, Tony Scott revealed that he actually had "soft porn" in mind when he was filming Top Gun back in the day, and he didn't even really have a point of view for the scene, so it wouldn't take a lot of mastery or anything to recreate or pay homage to the original scene in the new movie. Or maybe Top Gun 2 could even take things a step further and give us oily actors playing a different sport. The possibilities are truly endless.
The actor also told Entertainment Tonight at the premiere of The Mummy that there are certainly a few things we can expect from Top Gun: Maverick. This includes exactly what you would expect from the flick.
I know you are probably surprised about all of that, especially the jets. Just kidding. One other thing we know about Tom Cruise is that he likes doing his own stunts and he's been speaking about flying his own jets again if the new project moves forward. We'll definitely keep you posted on that and the volleyball front. For now, if you want to know what Tom Cruise has coming up before the new Top Gun, here's an in-depth look at what he has coming.
Amazing Race & Top Chef superfan with a pinch of Disney fairy dust thrown in. If you've created a rom-com I've probably watched it.
Your Daily Blend of Entertainment News
Thank you for signing up to CinemaBlend. You will receive a verification email shortly.
There was a problem. Please refresh the page and try again.