A New Frozen Short Is Coming, Watch The Trailer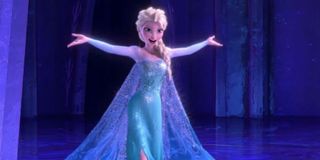 Frozen is one of the biggest hits that Disney Animation has ever seen. We knew the sequel was on the way, but we're all in for another Frozen treat before we get there. This morning Disney announced that a brand new Frozen featurette would be attached to Pixar's big holiday release, Coco. Unsurprisingly, the new film will focus on the character that stole the original film, Olaf the Snowman. Surprisingly, this isn't just an eight-minute short animation, but a 21-minute long short film. Check out the trailer for Olaf's Frozen Adventure.
The snowman, voiced by Josh Gad, will take center stage in the new short as he attempts to find a holiday tradition that Anna and Elsa can share in. It seems that since Elsa spent so much time separated from her family, as we saw in the original film, that they didn't spend holidays together like most families and never started the traditions that most families do. We see Olaf going literally door to door, with Sven, learning what other families do in order to get suggestions.
While we're used to seeing animated shorts attached to films from both Disney and Pixar, Olaf's Frozen Adventure looks to be something next level. According to Disney, the film is over 20 minutes long and will include four new songs. It will be interesting to see if one of them replaces "Let it Go" as the go-to favorite Disney song for all your kids. This could have been released as a half-hour network TV Christmas special, but apparently, it was decided that the film needed to see a theatrical release. The length is the likely reason we got a trailer at all. If this really was just an animated short the minute and a half long trailer would actually be a significant portion of the runtime.
Earlier this year Disney gave an official release date of November of 2019 for Frozen 2, which will put the short out two years ahead of the sequel. This is the second Frozen short that Disney has produced, since the original films. Frozen Fever was released in 2015, attached to the live-action adaptation of Cinderella. It appears we're due for new Frozen material every two years until such time as the property losses steam, which isn't likely to happen anytime soon.
One of the most interesting things about the fact that we're seeing Olaf's Frozen Adventure attached to Coco is the fact that this is the first time that a Pixar film will have a piece Disney Animation Studios attached to it. Previously, every Pixar film that has had a short in front of it, which is nearly all of them, it has been a Pixar-produced short. Cars 3, which hits theaters Friday will have the short film Lou attached. There have been times we've seen Pixar shorts in front of other Disney films, but never Disney animation taking over in a space where we would expect to see Pixar. It's possible that Pixar just didn't have a short that was going to be ready in time for Coco's release. The more likely scenario, however, is that Disney didn't want to wait until next holiday to get Olaf's Frozen Adventure out, and since Disney doesn't have any animated films being released this year, they decided to take the spot from Pixar.
I'm always looking forward to new animation and so I was already excited to see Coco. Now, we'll get a double shot with the extended short film Olaf's Frozen Adventure along with it.
CinemaBlend's resident theme park junkie and amateur Disney historian. Armchair Imagineer. Epcot Stan. Future Club 33 Member.
Your Daily Blend of Entertainment News
Thank you for signing up to CinemaBlend. You will receive a verification email shortly.
There was a problem. Please refresh the page and try again.