The 7 Best Musical Moments From The Cars Franchise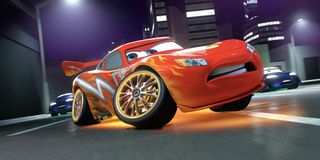 The following contains minor spoilers for Cars 3.
The Cars franchise is all about driving, but one thing that Pixar has always known is that nothing mixes better with driving than a great song. As such, the franchise has been a home to some of Pixar's best musical moments ever. In addition to having the likes of Randy Newman and Michael Giacchino create fantastic scores for the three Cars films, numerous musical artists have also lent their talents to original songs for the soundtrack.
I would argue that there's no bad music throughout Cars, but there are a few moments worthy of recognition as the best. Here are the best musical moments from all three Cars movies. Which one is your favorite?
Real Gone
The Cars franchise opened on a high note. As soon as Lightning McQueen opens the door of his trailer, we're greeted with the first major musical moment of the series, and it's still one of the best. It's hard to avoid getting caught up in the excitement of the race. It's the perfect song for driving a little too fast, not that we would recommend such things. For a professional race, however, it's perfect. The driving guitar and harmonica set the perfect tone for exactly what Cars is as a film, a little bit country, and a little bit rock and roll.
Our Town
Cars was inspired by the real-life Route 66 and the places that used to be the main stops on the road, before being bypassed by new freeways. Cars pays tribute to these real places with its most beautiful moment, James Taylor and a song called "Our Town." It's an emotioal song about how things change over time, and how you can't ever go back. It's also the moment that you discover that a movie about talking cars can still pack an emotional punch. If you originally let this song pass you by, slow down and take it in.
Sh-Boom
While most of the great musical moments in Cars are original songs, one of the best moments in the original film is the classic "Sh-boom." After the neon lights in Radiator Springs, all get fixed the townspeople enjoy an evening of cruising up and down the main drag. As it's a throwback to a bygone era, only a well known classic tune could do it justice. You'll get transported back in time as well, while we never saw Radiator Springs in its heyday, we can revel in the joy of the characters as they relive their glory days.
Collision of Worlds
Cars 2 strays away from the formula of the original film, and as such it doesn't have as many great musical moments. While Weezer's cover of "All I Want is You" is solid, the movie wraps up with a duet between Brad Paisley and Robbie Williams that embraces the film's globetrotting aspects. The American and English musical artists go back and forth throughout the song comparing what's different between the two cultures and embracing that they still have more in common. Paisley has been part of the music of every Cars movie, and while he had to be shoehorned into this one, it was worth it.
Run That Race
Cars 3 opens in a way that is very much designed to elicit memories of the opening of the original film. Lightning starts in his trailer giving his mantra, and as he hits the race track, the music hits. While The Black Keys' Dan Auerbach doesn't drive quite as hard with "Run that Race," that's ok. This is an older Lightning McQueen, and so the shift in tempo makes sense. McQueen still has something to give his sport, and he's not going to quit, which is what the song is there to say. Once again, it sets the film's tone perfectly.
Thunder Hollow Breakdown
While this is an instrumental song, it's technically not part of the score, as the song was composed by that Cars stalwart Brad Paisley, and not Randy Newman. Fans of Brad Paisley know that he's one of country music's great guitar players, and "Thunder Hollow Breakdown" shows this as well as anything he's ever performed. The song perfectly captures the wild nature of the demolition derby that Lightning and Cruz find themselves involved in. It's one of the best scenes in the new film and the music is a large part of the reason why.
Ride
Cars 3 goes out the same way it came in, with some great music. ZZ Ward and Gary Clark Jr. put together a great piece of R&B rock to play out the movie in its final scene and over the closing credits. This is the song that you'll have stuck in your head as you exit the theater and may have you hitting it up on your streaming service of choice when you get home. It works great as either the finale of the Cars trilogy or a stopping point on the road to the next film. Time will tell if there will be another Cars movie, but as long as they bring the right soundtrack, I'll go for the ride.
CinemaBlend's resident theme park junkie and amateur Disney historian. Armchair Imagineer. Epcot Stan. Future Club 33 Member.
Your Daily Blend of Entertainment News
Thank you for signing up to CinemaBlend. You will receive a verification email shortly.
There was a problem. Please refresh the page and try again.