Mark Wahlberg's Favorite Scenes To Shoot In Transformers: The Last Knight May Surprise You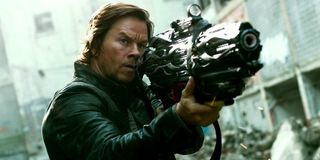 For the last 20 years Mark Wahlberg has thoroughly flexed his muscles within the action genre thanks to his roles in Three Kings, The Perfect Storm, Planet of The Apes, Pain & Gain, and most recently Transformers: Age Of Extinction and its impending follow-up Transformers: The Last Knight. But it sounds as though the 46-year-old actor is beginning to feel the strain of making these films, because Mark Wahlberg has admitted that his favorite scenes to shoot while making The Last Knight were the ones where he just had to sit in a room and talk. When asked what were his favorite scenes to film, Mark Wahlberg instantly responded,
Mark Wahlberg made this admission to me when I sat down with the actor to discuss Transformers: The Last Knight in jolly old London town over the weekend. You can understand why Mark Wahlberg adored shooting any sequence that simply involved him zonked out on a chair and exchanging dialogue with someone, because the alternative saw him pacing around the set away from psychotic robots, falling debris, and avoiding explosions for take after take after take.
As Mark Wahlberg made it clear with his above remarks, he still had to endure plenty of those days on the set of Transformers: The Last Knight. In fact, having already seen the film, I can attest that The Last Knight probably involved much more rigorous stunts for Mark Wahlberg than Age Of Extinction, one of which--minor spoilers-- included him having to try and battle some Transformers atop a huge machine that's repeatedly bobbing up and down in the ocean. You can check out Mark Wahlberg answering my question regarding which were his favorite Transformers: The Last Knight scenes to shoot by checking the video out, below.
Mark Wahlberg has already suggested that he won't ever have to endure filming action scenes against Transformers again. Because after playing Cade Yeager in both Transformers: The Last Knight and Transformers: Age Of Extinction he has declared that if Michael Bay decides to leave the franchise then he will follow suit. Mark Wahlberg only agreed to be a part of the Transformers universe after working with Michael Bay on Pain & Gain, and when you add in his above comments, if Bay does actually depart the series then it is basically a certainty that Mark Wahlberg will do, too. The problem for Mark Wahlberg is that Michael Bay has previously threatened to leave the Transformers franchise on numerous occasions, only to then be coaxed back in to direct another installment.
While we wait for Michael Bay to make up his mind, we have the small matter of Transformers: The Last Knight finally hitting cinemas on June 20 to contend with. Keep heading to CinemaBlend for further revelations regarding the blockbuster over the next few days.
Your Daily Blend of Entertainment News