What's Actually Happening With Marvel, Sony And Spider-Man: A Handy Cheat Sheet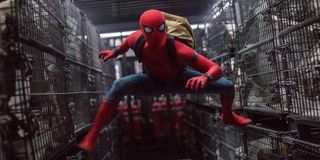 What a tangled web Sony has woven with Marvel Studios over Spider-Man. For the most part, we think that the partnership that began with Captain America: Civil War and expands with Spider-Man: Homecoming is a fruitful, productive and beneficial pairing. On the surface, Marvel gets immediate access to Spider-Man as part of their ever-growing MCU, and Sony gets assistance in the restoration of their most valuable asset: the amazing wall-crawler. But as BOTH studios look to the future, where does Spider-Man stand... and how will get fit into Marvel AND Sony's long-term plans?
The answer is ever-changing, as the situation is beyond fluid. Here's what we think we know. Sony owns the rights to Spider-Man. That hasn't changed. They created three Spider-Man movies with Sam Raimi, and two with Marc Webb. But after The Amazing Spider-Man 2 met horrible reviews and less-than-expected box office, Marvel struck a deal with Sony to allow them to MAKE a Spider-Man movie, but to let Sony distribute it. Essentially, Spider-Man (recast with Tom Holland in the lead role) would appear in a story that exists in the MCU plotline. And he'd be available for at least one Avengers film -- possibly more. The original agreement between Marvel and Sony included the hero's introductory appearance in Captain America: Civil War, as well as two solo Spider-Man movies -- this summer's Homecoming, and a sequel dated for 2019 -- and an appearance in Avengers: Infinity War.
That's it. For now.
That's as far as Marvel's agreement with Sony goes, though Marvel President Kevin Feige has said they are focused on the stories of the moment, and they'd see what makes sense in the future. The party line on the MCU is that after Avengers 4, everything we thought we knew about the MCU will change, so we have no real clue how Spider-Man even fits into those plans long term. In a recent Hollywood Reporter piece, it is being floated that the Spider-Man: Homecoming sequel -- arriving July 2019 -- will feature a recognizable Marvel hero (though not Iron Man, for a second time). But after that, Spidey's MCU plans are up in the air.
Where do things stand with Sony? Well, that's where things get very curious. The studio is hoping to reset its plans for building out a Spider-Man universe, as they own the rights to Spidey and his complete Rogues Gallery. Only, up until recently, we didn't know how (or even if) Spider-Man would be involved. The studio has revealed that it's making a Venom movie, as well as a Black Cat and Silver Sable team up film. The latter movie will star Tom Hardy, and it's now being reported that Carnage will be the villain in the piece. The Cat/Sable movie has a director, in Gina Prince-Bythewood... but not much else.
The problem, according to fans, is that neither of these movies makes any sense without Spider-Man. Venom's origin (as well as Carnage's origin) depends on the existence of Spider-Man. And though I can't see Sony staging a Secret War to explain the alien symbiote, there has to be a link between Venom and Spider-Man to make that character and his relationship resonate. Thankfully, in that same THR piece, it's stated that the "intention" is to bring Tom Holland into the spinoff movies at Sony. So long as it synchs up his shooting schedule for the Marvel movies, and his new commitment to the Uncharted films (also for Sony), then expect Holland to don his Spidey suit for those movies, as needed.
But again, this whole situation is fluid. Until recently, when producer Amy Pascal suggested there was "a chance" that Tom Holland might appear in the Sony spinoffs, that was unclear. And we'll be left to wonder just how many times Tom Holland can play Spider-Man in various Marvel and Sony movies before it wears on him. Robert Downey Jr. has perfected the model of bringing Iron Man into numerous projects. Holland might be able to do the same.
For now, we know that: Marvel and Sony are sharing nicely; Spider-Man will be in two Spidey movies in the MCU, as well as Avengers: Infinity War; and Sony plans to use Holland in their Venom and Black Cat/Silver Sable films, schedules permitting. Stay tuned as this exciting proposal plays out on screens around the world for years to come.
Sean O'Connell is a journalist and CinemaBlend's Managing Editor. He's frequently found on Twitter at @Sean_OConnell. ReelBlend cohost. A movie junkie who's Infatuated with comic-book films. Helped get the Snyder Cut released, then wrote a book about it.
Your Daily Blend of Entertainment News
Thank you for signing up to CinemaBlend. You will receive a verification email shortly.
There was a problem. Please refresh the page and try again.