Avengers 3: Everything We Know About Infinity War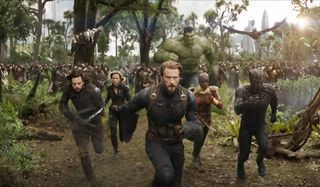 Between the movies, the one shots, the limited-series and the television shows, the Marvel Cinematic Universe is constantly growing bigger and bigger week to week - and it's all headed in a rather epic direction. As confirmed by Marvel Studios President Kevin Feige, everything we've seen so far in the comic book movie world has been building towards a massive big screen battle against the alien warlord known as Thanos, and that huge event will unfold in 2018's The Avengers: Infinity War.
But who amongst the established heroes and villains in the MCU can we expect to see pop up in the movie? Who are the filmmakers responsible for making it? Well, to organize all of that key information we have put together this handy guide which we'll keep updating to let you know the latest info about the giant blockbuster. So read on - but first, give the ridiculously fantastic debut trailer for The Avengers: Infinity War a watch!
What Is The Infinity War Release Date?
As was announced in October 2014, Avengers: Infinity War will be released on April 27, 2018. Originally, the movie was expected to come out on May 4, but following the success of Black Panther, Marvel is keeping the momentum going by pushing up Infinity War a little earlier. Initially, this story was believed to unfold across two movies, as the fourth Avengers movie was titled Infinity War: Part 2. However, directors Joe and Anthony Russo (more on them in a bit) later said that the titles were "misleading," and that eventually they would be changed. That eventually proved true, as in late August 2016 Marvel dropped the Part 1 from the third Avengers movie, thus resulting in Avengers: Infinity War. Avengers 4 still doesn't have an official title. There will still be some "cross pollination" between the two movies, but look at them now as separate and distinct movies.
What Is The Infinity War Rating?
No official rating has been announced yet, but it's a good bet that Avengers: Infinity War will follow in the footsteps of the other MCU movies and be rated PG-13. Granted, the violence will almost assuredly be the most intense we've seen yet in this franchise, but it won't be worthy of being slapped with an R-rating, just to ensure that younger fans can enjoy the experience as well. They'll throw in a few curse words and some suggestive material, but probably no more than the usual content found in a Marvel movie.
The Writers And The Directors
Marvel Studios seems to have a lot of trust in the abilities of the directing duo Joe and Anthony Russo and writing pair Stephen McFeely and Christopher Markus. After the latter duo wrote the much-praised script for Captain America: The First Avenger, the four men first worked together on Captain America: The Winter Soldier. That was such a massive success that they were re-teamed for Captain America: Civil War; and with that track record Marvel Studios trusted nobody else to make The Avengers: Infinity War. The 2018 film should definitely be a totally different beast than the previous works of the filmmakers, given that they are working with dozens and dozens of established characters, but there's little reason to doubt that they'll come up with something wildly impressive.
Iron Man
Iron Man (Robert Downey Jr.) served as the antagonist of Captain America: Civil War, enforcing the new legislation requiring that all superhero folk be regulated. This led to him squaring off against Captain America and the other anti-registration heroes in a battle of ideological differences, an the ending him emotionally scarred after discovering that Winter Soldier (Sebastian Stan) killed his parents. He's dealing with Steve Rogers' betrayal, and was left in a vulnerable spot. Since then we have seen him get some of his mojo back, helping Peter Parker a.k.a. Spider-Man (Tom Holland) unlock his incredible potential, and it's even possible that when we next see him he will be married to Pepper Potts (Gwenyth Paltrow) - according to the end of Spider-Man: Homecoming. All the same, it's not exactly going to be easy for him to work with a lot of his fellow Avengers following their massive fallout, but they'll need to if they want to have any chance in the fight against Thanos (Josh Brolin)
Captain America
Following the battle against A.I. gone mad in The Avengers: Age of Ultron, Captain America (Chris Evans) returned to the big screen in May 2016 for Captain America: Civil War, where he led the charge against the Sokovia Accords and superhero registration. Despite rumors that he would die at the end of the conflict, similar to what happened in the comics, Steve Rogers made it out alive, though he and his allies through the skirmish are now considered criminals by the world's governments (thanks to the fact that Cap freed them all from The Raft prison where they were being held). Even though he's on the run, there's no reason to believe that Captain America has stopped protecting the innocent on their own terms, and fighting Thanos will certainly be a big part of that mission. He'll be sporting a very different look in The Avengers: Infinity War, complete with a full fugitive beard, but there's no doubt that his moral compass will point true north as always.
Chris Evans will appear as Steve Rogers a.k.a. Captain America in both Avengers: Infinity War and Avengers 4 - which it's been said will complete the actor's contract with Marvel Studios. This leaves us wondering if the two big blockbusters could feature the end of the character's run on the big screen, but that's just speculation for now.
Thor
Like Captain America, Thor (Chris Hemsworth) will be carrying a lot of baggage going into The Avengers: Infinity War, but it is of a much different variety. In Thor: Ragnarok, the God of Thunder not only witnessed the death of his father, but also the titular apocalyptic event. Fortunately, Thor was able to save most of the Asgardians before the destruction, shepherding them onto a space ship, but that didn't result in them being totally out of the woods. Instead, the mid-credits sequence showed us that there is a very real threat lurking in the cosmos, and judging by the Infinity War footage that was shown at D23/San Diego Comic-Con 2017 (where Thor was shown floating out in space), it looks like the hero and his people are anything but safe.
Beyond that, the first Avengers: Infinity War trailer also showed us that Thor will be playing a part in one of the most significant moments in the history of the Marvel Cinematic Universe: he will be the first Avenger to meet the Guardians of the Galaxy. At this point we don't really know what's going to happen with that relationship, or how the Asgardian will wind up bringing the intergalactic heroes to Earth, but new trailers may reveal that in the weeks ahead.
The Hulk
At the end of Avengers: Age of Ultron, Hulk (Mark Ruffalo) flew away from his fellow Avengers in a Quinjet, and his whereabouts afterwards were a mystery. It turns out, as revealed in Thor: Ragnarok, that he landed on the alien planet Sakaar and had a rather life changing experience becoming a champion gladiator and learning how to (somewhat) properly speak. Over all Bruce Banner spent nearly two full years in his green monster form, and the effect is a created imbalance in the relationship between the two personas. At the end of the third Thor movie, Banner is afraid that turning into Hulk once more could be permanent - though his appearances in the Avengers: Infinity War trailer suggest he found a way to change back.
Outside of the fact that he apparently at one point comes crashing down through the roof of Doctor Strange's Sanctum Sanctorum, Hulk info isn't exactly plentiful right now where the Joe and Anthony Russo film is concerned. That said, Mark Ruffalo did confirm to us that his parts in Thor: Ragnarok, Avengers: Infinity War and Avengers 4 together form a three-act arc that operates as its own "standalone Hulk story."
Black Widow
Since making her live-action debut in Iron Man 2, Scarlett Johansson's Black Widow has grown to become a big screen fan favorite, and that level of appreciation has led to an expanded role in the Marvel Cinematic Universe. In addition to being a full-fledged Avenger, she has also become a key character in Captain America's adventures, appearing in his latter two solo movies. Black Widow's in the wind following Captain America: Civil War, but, not to worry, because it's been confirmed that she will be involved in Avengers: Infinity War.
While she was ultimately doing the right thing, Black Widow broke the law when she allowed Captain America and The Winter Soldier to steal a Quinjet, detaining Chadwick Boseman's Black Panther in the process. She had one final face to face with Tony Stark, but unlike Cap's other associates, was presumably never captured. One theory is that she's been staying in Wakanda, given that it looks as though the mysterious African nation is being established as a safe haven for anti-Sokovia Accords heroes, but one thing we know for certain she's done to keep her identity a secret is go blonde.
Hawkeye
Hawkeye has made steady appearances in the MCU over the last several years, first cameoing in Thor and playing integral roles in The Avengers, Avengers: Age of Ultron and Captain America: Civil War. Given his status as an original Avenger, it makes all the sense in the world to bring him back for Avengers: Infinity War - if not only because Earth will need as many superheroes as possible in the fight against Thanos. Well, that's just what'll happen, as Jeremy Renner is signed on for both The Avengers: Infinity War and Avengers 4. Unfortunately, exactly what his role will be remains a total mystery - even more than most of the other heroes and villains we're discussing in this feature.
This is primarily because Hawkeye is one of the few lead Marvel characters who doesn't make at least a brief appearance in the first Avengers: Infinity War trailer. Last we saw him, Clint Barton was being freed from The Raft by Captain America, but where he went from there is a mystery. Like other characters that have been discussed, he's a fugitive from the law, but his situation is a tad different than most: he's a husband and father of two. It's possible that the events in Germany resulted in him not being able to see his family in the time since, so he may not be such a happy camper when we next catch up with him.
Scarlet Witch
With their introduction in Avengers: Age of Ultron, Elizabeth Olsen's Scarlet Witch and Aaron Taylor-Johnson's Quicksilver became the two newest superpowered individuals making their way into the Marvel Cinematic Universe... but only one was given a future in this franchise. The movie saw the untimely death of Quicksilver, who was killed in action protecting Hawkeye, and while there are no publicly discussed plans to bring him back, Scarlet Witch is a completely different story. She recently returned in Captain America: Civil War, and the Russo brothers confirmed she'll appear for Avengers: Infinity War.
Scarlet Witch was another member of Team Cap in Captain America: Civil War, meaning she did her fair share of lawbreaking. Still, it looks like her fugitive status isn't stopping her developing romantic life. While there were a few bumps in the road, Scarlet Witch and Vision (Paul Bettany) subtly started a more meaningful relationship during the Joe and Anthony Russo film, and it looks like it will further blossom in The Avengers: Infinity War. One of the few shots of her in the trailer had her alongside the incredible android, but there is something very different about his look (more on that in a bit).
Thanos
While he's won't be the only villain featured in Avengers: Infinity War, Thanos will certainly be the main antagonist of the film. We've officially known about the character's presence in the universe since the mid-credits sequence of The Avengers, which revealed him as having a desire to conquer Earth, and we got to know him a bit better in Guardians of the Galaxy through his interactions with Ronan The Accuser. The last time we saw him was in Avengers: Age of Ultron, when he finally decided to hunt for the Infinity Stones himself, though we did see what looked like his ship in the mid-credits sequence of Thor: Ragnarok. In the third Avengers adventure, we will see Thanos finally pursuing all of the Stones in the hopes of assembling them in the Infinity Gauntlet, which will see him effectively gain the powers of a god and gain control over all time and space. Naturally, it will be up to the Marvel Cinematic Universe's greatest heroes to stop him and his minions, known as the Black Order.
Ant-Man
Ant-Man made his big Marvel Cinematic Universe debut in summer 2015 in his very own solo film, and he returned in May 2016 for Captain America: Civil War as one of Steve Rogers' allies. Paul Rudd's Scott Lang is returning for 2018's Ant-Man and the Wasp, but beyond that his future in the Marvel Cinematic Universe hasn't been revealed yet. Presumably Marvel will be interested in keeping a character as historically important as Ant-Man and an actor as popular as Rudd in the mix with other players, but for right now, it doesn't appear like he'll be taking part in the craziness that is Avengers: Infinity War. Instead, it seems like he'll be featured in the sequel to his solo film next, and will then join up with everyone else in The Avengers 4.
Wasp
In the Ant-Man mid-credits scene, Evangeline Lilly's Hope van Dyne was finally given her own Wasp suit built by her father, Hank Pym (Michael Douglas). The suit was originally intended for her mother, but with Janet gone and Hope skilled with the shrinking technology, it's finally time for her to become a superhero. It looks like moviegoers won't see Hope become the Wasp until 2018's Ant-Man and the Wasp, but once that happens, she'll be the newest player among the Marvel Cinematic Universe's growing cast of heroes. Unfortunately for Wasp fans, Evangeline Lilly confirmed that Hope won't appear in Infinity War since she won't have achieved full superhero status yet, but the plan is for her to jump into Avengers 4's conflict - just like her male counterpart.
Spider-Man
Thanks to a landmark deal between Marvel Studios and Sony Pictures, Spider-Man debuted in the Marvel Cinematic Universe in May 2016 for Captain America: Civil War, where he was played by Tom Holland. That project was an introduction more than anything leading up to his first MCU solo film this past summer, Spider-Man: Homecoming. In the film, which is very much a coming-of-age story, the young Spider-Man had to learn to set boundaries for himself, and ultimately decided to not be an Avenger - instead remaining a "friendly neighborhood Spider-Man." Of course, that plan is going to totally go out the window once Thanos makes his way to town, a time when Earth is going to need all hands on deck.
Also worthy of discussion is the get-up that Spider-Man will be wearing in The Avengers: Infinity War. When Peter turned down membership in The Avengers at the end of Spider-Man: Homecoming, he also rejected a specially designed suit that Tony Stark designed for him (which fans have come to call the Iron Spider suit, based on a particular costume from the comics). He was still left with the more traditional outfit that was introduced in Captain America: Civil War, but clearly declined a lot of bells and whistles. As seen in the trailer and the image above, however, it's clear that Peter Parker couldn't resist the Iron Spider armor for long, as it seems he will be putting it on when he joins Earth's Mightiest Heroes.
Doctor Strange
After a brief mention in Captain America: Civil War, Dr. Stephen Strange (Benedict Cumberbatch) finally debuted in the Marvel Cinematic Universe when Scott Derrickson's Doctor Strange hit theaters in 2015. Shortly before the movie was released, Cumberbatch confirmed that the solo movie wasn't his only plan for the future with Marvel Studios, as the benevolent spell-caster will appear in Avengers: Infinity War as well. Not only is the character expected to become an important and influential figure in the MCU -- as he is in the comics -- but he also serves as the gatekeeper for a very important aspect of the big screen world: The Multiverse.
As teased in Derrickson's blockbuster, Doctor Strange will be the audience's access point to the world of magic and alternate dimensions in the Marvel films, and that area should definitely be explored in the battle against Thanos. After all, the very special relic that he likes to wear around his neck - a.k.a. the time-controlling Eye of Agamotto - is actually one of the six Infinity Stones for which the Mad Titan is hunting (specifically the Time Stone). That alone puts a major target on his back, and its a dangerous situation considering Strange will be dealing with threats unlike anything he's dealt with before. On a brighter note, the advancing manipulator of the mystic arts will have a close friend by his side during The Avengers: Infinity War in Wong (Benedict Wong), and Cumberbatch has said that Strange may also prove integral in mediating the fractured relationship between The Avengers that came about in Captain America: Civil War.
Black Panther
Most major heroes of the Marvel Cinematic Universe are introduced via solo films that explore origin stories, but such was not the case for Black Panther. Instead, Chadwick Boseman debuted as T'Challa in Captain America: Civil War, and he immediately became a fan favorite. There is still much to learn about his character and where he comes from before the events of The Avengers: Infinity War, but that's why Ryan Coogler's Black Panther is arriving in theaters in February 2018.
Based on the trailer for The Avengers: Infinity War, Black Panther should actually wind up being a key set-up film for the summer release, given that it looks like Wakanda is going to be a very important location in the blockbuster. Wakanda is, of course, the secretive African nation that calls T'Challa king, and, as mentioned earlier, the footage suggests that it's been a safe haven for heroes like Captain America who are technically fugitives everywhere else in the world. Furthermore, Danai Gurira's Okoye is slated to return in the Joe and Anthony Russo-directed blockbuster, and there have been reports that Winston Duke's M'Baku will be back as well.
Vision
After years of voicing Tony Stark's digital butler J.A.R.V.I.S. in the Marvel Cinematic Universe, Paul Bettany finally joined the live-action ensemble of the gigantic comic book world by playing Vision in Avengers: Age of Ultron. Following his "birth," he returned for Captain America: Civil War, fighting for Team Iron Man. Given the character's incredible abilities - including flight, density manipulation, energy projection, and apparently making himself look human - he will certainly be an asset in the fight against Thanos in Avengers: Infinity War, so you can look forward to seeing him in the upcoming film. There is, however a... problem.
You see that yellow glowing thing in the middle of Vision's forehead in the image above? As any Marvel fan will tell you, that's the Mind Stone, and Doctor Strange's Eye of Agamotto, it's basically a giant target for Thanos. From the trailer we know that Black Order member Corvus Glaive is going to use his special bladed weapon to try and pry the Infinity Stone from Vision's head, but what we don't know is exactly what that's going to do to the Avenger. Is it going to kill him? Is it going to leave him comatose? Or can he just get on without it?
Guardians of the Galaxy
The Avengers: Infinity War is an exciting upcoming blockbuster for many reasons, but unquestionably one of the biggest is the opportunity to see the Avengers and the Guardians of the Galaxy fight side-by-side. Per the request of writer/director James Gunn, the Guardians have thus far existed in a very different corner of the Marvel Cinematic Universe than everyone else, but that all changes with the franchise's first capstone project. In the trailer we get to see Thor meet Star-Lord (Chris Pratt), Gamora (Zoe Saldana), Drax (Dave Bautista), Rocket (Bradley Cooper), Groot (Vin Diesel), and Mantis (Pom Klementieff), but that's only the tip of the iceberg.
And it's not just the Guardians of the Galaxy who will be appearing in The Avengers: Infinity War either. We expect a few supporting characters from that particular realm of the MCU to make appearances, but Karen Gillan's Nebula is confirmed to have a role in the blockbuster as well. We'll keep updating this space as new names pop up.
Captain Marvel
Captain Marvel will be the last Marvel Cinematic Universe movie to come out before Avengers 4, but there is some question as to whether or not its titular hero will be making her big screen debut in The Avengers: Infinity War. Some have questioned the super early casting of Brie Larson as Carol Danvers as evidence of this, and the Russo brothers have even gone so far as to hint that it is happening. Exactly how it could happen we don't really know - and that's partially because of what we know about her solo film.
Not only will Anna Boden and Ryan Fleck's Captain Marvel be an origin story - explaining how Carol Danvers had her DNA fused with a alien's giving her superpowers - but the plan is to set the film in the 1990s. This not only raises the question asking where she's been for the last couple of decades, but also how the franchise will deal with her presumably not aging during that time. These are answers we have to just wait for.
Falcon
We can't really say at this point exactly what Sam Wilson a.k.a. Falcon (Anthony Mackie) did the moment he was freed from The Raft by Captain America, but we can take a guess: he probably just stuck with Captain America. The two men have been best friends ever since the events that went down in Captain America: The Winter Soldier, and they always have each other's back in a time of crisis. And what's more of a crisis than being considered wanted men by almost every nation on Earth?
Just like Scarlet Witch, Black Widow, The Winter Soldier, Hawkeye, and Ant-Man, Falcon clearly finds some way to overcome his fugitive status when the world needs his help in The Avengers: Infinity War. He's not featured a lot in the first trailer, but we do know that he manages to get his specially-designed wing pack back, and is fighting alongside the titular team in Wakanda. We'll have to wait on more trailers and eventually the finished film to fill in the gaps.
War Machine
Nobody walked away from Captain America: Civil War totally unscathed, but James 'Rhodey' Rhodes (Don Cheadle) arguably got it the worst. Thanks to an errant energy blast from Vision, War Machine found his armor malfunctioning mid-flight, and crashed down to the ground without any kind of support system available. Rhodey hit the ground hard, and while the armor kept him from dying, the accident also left him paralyzed from the waist down. He thankfully has a friend in Tony Stark, who was able to build an exoskeleton to help him walk again, but he may never be 100% ever again.
This leads us to his part in The Avengers: Infinity War. We know that War Machine (at least the armor) appears in the film, as you can see him in the top left corner of the big money shot before the title card in the trailer. However, that was his only appearance in the footage, so we don't really know how he is or what he's been up to since we last saw him. Hopefully he's in good spirits and adjusting to his injury.
Other Characters
Writers Christopher Markus and Stephen McFeely mentioned that there are around 75 major MCU characters available for them to use in Avengers: Infinity War, so despite all the people we've already mentioned, there's a lot more room for additions. So far The Winter Soldier, Maria Hill (Cobie Smulders), Pepper Potts and Wong are all confirmed to return - though there has been some question about the involvement of Samuel L. Jackson's Nick Fury (who is set to reprise the part in Captain Marvel). Stellan Skarsgård has expressed interest in coming back to play Erik Selvig, and while at one time it was unclear whether Loki was expected to appear, he has now been confirmed (seen handing the Tesseract a.k.a. The Space Stone to somebody in the screengrab above). Then there's Benicio Del Toro's Taneleer Tivan, a.k.a. The Collector, who, like Thanos, is hoping to gather all of the Infinity Stones, and is expected to appear because he's in possession of the Aether a.k.a. The Reality Stone
As for newcomers, Peter Dinklage has reportedly joined the cast, and while his specific role has not been identified, there are rumors that he will be playing the cosmic weirdo Pip the Troll. Terry Notary is portraying one of Thanos' henchmen (Black Dwarf) via performance capture, and Irish actor Tom Vaughan-Lawlor is portraying Ebony Maw. It has not yet been revealed who will be playing Proxima Midnight and Corvus Glaive, the other two members of the Black Order.
The Defenders
Marvel's superhero work isn't being limited to the big screen these days. They've also broken into the world of online streaming content, and they're using that format -- and a deal with Netflix (opens in new tab) - to bring together the likes of Daredevil, Jessica Jones, Luke Cage and Iron Fist to form the Marvel Cinematic Universe's version of The Defenders. Being that they are heroes of the MCU, that obviously makes them candidates to be a part of Avengers: Infinity War - but whether or not that will actually happen is unclear right now. There were rumors in 2015 saying that the New York-based characters won't show up in the movies until the fourth Avengers movie in 2019, but since then, various comments from folks in both the movie and TV divisions have suggested it would be difficult to include them even then. Things could obviously change at some point, and there could perhaps be a big surprise in store, but right now the chances of them appearing are slim.
Your Daily Blend of Entertainment News
Assistant Managing Editor
NJ native who calls LA home and lives in a Dreamatorium. A decade-plus CinemaBlend veteran who is endlessly enthusiastic about the career he's dreamt of since seventh grade.
Your Daily Blend of Entertainment News
Thank you for signing up to CinemaBlend. You will receive a verification email shortly.
There was a problem. Please refresh the page and try again.