Spider-Man: Homecoming - What We Know So Far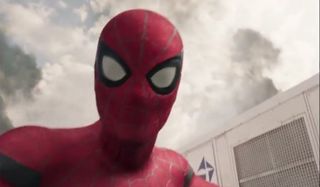 After five Sony movies that featured two different Peter Parkers (in Tobey Maguire and Andrew Garfield), Spider-Man is now in the creative hands of Marvel Studios, and is ready to make a major impact on the future of the Marvel Cinematic Universe. The webslinging hero made his tremendously exciting franchise debut in Captain America: Civil War, but now he's ready to be the star of his first MCU solo movie in the form of Spider-Man: Homecoming.
Because of the excitement that the project has generated, we have been getting regular updates about the development of the film since the day it was officially announced -- and as a result there is quite a bit to know going in. We've already seen a number of trailers for Spider-Man: Homecoming, and you can watch the latest one below:
For your convenience, we've put together this handy What We Know So Far guide, which we will keep updated as Spider-Man: Homecoming edges closer and closer to release. Who is making the blockbuster? Who is starring in it? What will it be about? For all the answers you seek, read on!
What Is The Spider-Man: Homecoming Release Date?
It originally looked like 2017 was going to be a typical year for the Marvel Cinematic Universe, with two new movies hitting theaters (Guardians of the Galaxy Vol. 2 and Thor: Ragnarok), but the deal between Marvel Studios and Sony Pictures means that 2017 will be the first year that we get three MCU titles in one calendar year. It was originally announced that the movie would be coming out on July 28, 2017, but now Spider-Man: Homecoming will officially be swinging into theaters on July 7, 2017.
What Is Spider-Man: Homecoming Rated?
Spider-Man has had a few darker adventures over the years, but as a teenage superhero, it would be silly for Marvel and Sony to deprive teenage audiences of his new movie. Fans of the webslinger definitely shouldn't be expecting any cursing or excessive, bloody violence in Spider-Man: Homecoming, as the film will be swinging into theaters brandishing a PG-13 rating.
When Is Spider-Man: Homecoming Set?
Thankfully, Marvel Studios knows that audiences really, really don't want to see another version of Spider-Man's origin story, so they're skipping over that part entirely. When we meet Peter Parker in Captain America: Civil War, he mentions that he has had his powers for about six months -- and video played by Tony Stark reveals that he has already been donning a costume and using web-shooters to help people and stop crime in New York City. That and the events at the Leipzig-Halle airport helps give us a sense of how much experience the hero will have going into Spider-Man: Homecoming, but what remains unclear is exactly when the blockbuster will be set.
It's pretty typical for Marvel movies to use real time to establish the temporal distance between their different projects, but it's unclear if they'll be able to do that with the Spider-Man films. After all, one of the most important elements of this big screen incarnation is the fact that he's a young, high school-aged kid, and if Marvel wants to not have him graduating in 2020 then they will have to slow things down a bit when it comes to the passage of time. As a result, it's probable that the happenings in Spider-Man: Homecoming will take place a few months or weeks (if not days) after the events of Captain America: Civil War, rather than a full year.
What Is Spider-Man: Homecoming About?
John Francis Daley and Jonathan M. Goldstein, screenwriters best known for scripting R-rated comedies, are holding the pen for Spider-Man: Homecoming, and they are spinning a few plates in doing so. The movie is not only the first solo film for a brand new version of the wall-crawler, but also tasked with firming up the titular hero's place in the larger Marvel Cinematic Universe. With a John Hughes-inspired vibe, a good portion of the film will be a coming-of-age story set within the halls of Midtown High School - Peter Parker (Tom Holland) hanging with his friends and falling in love - but, of course, the rest will find Spider-Man adjusting to life as a hero after the events of Captain America: Civil War.
The story will find young Peter Parker (Tom Holland) still learning at the hand of Tony Stark (Robert Downey Jr.), who has started to open up some of the real potential that's available in the Stark Industries-designed Spider suit. Unfortunately, this leads Peter to be a bit too excited about the prospect of hero-dom, and it couldn't come at a worse time. Adrian Toomes (Michael Keaton), who basically works as a garbage man cleaning up after the Avengers, has devised a plan to create a bit of chaos out of revenge, and part of that involves the creation of an incredibly powerful winged flying suit.
Who Is Directing Spider-Man: Homecoming?
Jon Watts isn't exactly a household name just yet, but he has been selected by Marvel Studios and Sony as the man they want to make the first Spider-Man movie set in the Marvel Cinematic Universe. Of course, just because you don't know his name doesn't mean he doesn't have any experience. He made his feature directorial debut with the horror flick Clown (opens in new tab), but what really got him noticed was his 2015 film Cop Car. Telling the story of a couple of kids who make the mistake of stealing the vehicle of a corrupt sheriff (Kevin Bacon), the film is an excellent, dark drama with wonderful bits of comedy -- and it's entirely possible that it was the great performances by the two young leads that helped inspire Marvel to hire Watts for Spider-Man: Homecoming.
Peter Parker/Spider-Man (Tom Holland)
Tom Holland is surely the envy of every young actor in Hollywood right now. After a long and grueling casting process, he was ultimately selected as the star who will portray Peter Parker/Spider-Man in the Marvel Cinematic Universe for years to come. Prior to landing this gig, the young British actor was best known for playing Naomi Watts and Ewan McGregor's brave son in the tsunami thriller The Impossible. He also starred alongside fellow MCU superstar Chris Hemsworth in Ron Howard's In The Heart of the Sea (Hemsworth even takes some credit for pushing Holland in front of the Marvel executives during the casting process), and was in The Lost City of Z with Charlie Hunnam.
But what do we know about this new incarnation of Peter Parker/Spider-Man? In Captain America: Civil War, we learned that Peter has had his Spidey powers for about six months, and that he has been using them to prevent crimes around his neighborhood - and Spider-Man: Homecoming will likely be set just a few months after the events in that film. As he should be, he is a scientific genius and brilliant inventor who has created his own webbing and webshooters. This ingenuity should serve him well, as the trailers for the film make it look like he won't always be able to rely on having the special suit that Tony Stark designed for him.
As for his home life, Peter lives in an apartment in Queens, New York with his Aunt May, and while he's not mentioned by name in Captain America: Civil War, it's pretty clear that the death of his Uncle Ben has left him feeling the need to be responsible with his great power. Peter likes to collect old technology (he's not hesitant about dumpster diving), and he uses the components to build inventions of his own -- inventions that will surely help in his future as a superhero.
Adrian Toomes/Vulture (Michael Keaton)
On the big screen, we've seen Spider-Man tussle with Green Goblin, Doctor Octopus, Sandman, Venom, The Lizard, Rhino, and Electro -- and while this is a pretty substantial list of great Spidey antagonists, Spider-Man: Homecoming has still found a classic villain from the rogues gallery to adapt in live-action for the first time. It's been confirmed that the blockbuster will feature Adrian Toomes a.k.a. Vulture as its main baddie, and he will be played by none other than Batman himself, the legendary Michael Keaton.
Vulture is one of Spider-Man's original antagonists, debuting in 1963's Amazing Spider-Man #2, and while the Spider-Man: Homecoming adaptation won't be exactly like the comic book counterpart, the spirit of the character is certainly there. The new film will introduce Adrian Toomes as the owner of a salvage company that has found business cleaning up after large-scale superhero heroics. He winds up being hit hard in the pocket, however, when Tony Stark and the government team up to create a federal Department of Damage Control - and he makes plans to take his revenge using alien technology to build his very own flying exo-suit.
Tony Stark/Iron Man (Robert Downey Jr.)
In Captain America: Civil War, it was Tony Stark who first brought Spider-Man to the attention of The Avengers, bringing him in to fight in the Leipzig-Halle Airport -- so it's only fitting that he also play a significant role in the webslinger's first solo movie. Robert Downey Jr. is returning to the Marvel Cinematic Universe in Spider-Man: Homecoming, and the trailers certainly suggest that he has a substantial role to play in the story.
In the months following Captain America: Civil War, Tony Stark has evidently kept in contact with Peter Parker, and has also let him keep the specially-designed Spider-Man suit that he built (albeit with a few safeguards built in). He is definitely considering the young hero for a position with the Avengers, but until the time is right, he wants the kid to lay low and be a "neighborhood-friendly Spider-Man." Naturally, this is an order that Peter directly disobeys, leading Tony back into the Iron Man suit to try and save the day.
Impressively, this will be Robert Downey Jr.'s eighth time playing Tony Stark in the Marvel Cinematic Universe (including his cameo at the end of The Incredible Hulk) -- which is pretty impressive when you consider that it was once thought he was far too expensive for the studio to repeatedly bring back. By the time Phase Three is over, he will have starred in at least four out of 10 of the features, as he is expected to be a prominent figure in both The Avengers: Infinity War and The Avengers 4 (whatever it winds up being called).
Aunt May (Marisa Tomei)
You can't tell a proper Spider-Man story without including Peter Parker's Aunt May. What makes the Marvel Cinematic Universe version of the character different, however, is that she's not exactly the older woman that's been featured in the comics for decades and was played by Rosemary Harris in the Sam Raimi films and Sally Field in Marc Webb's two Amazing Spider-Man flicks. In Captain America: Civil War audiences were introduced to Aunt May being played by 51-year-old Marisa Tomei. It seems that getting a younger version of Peter Parker in Spider-Man: Homecoming also means Aunt May will be younger than she's traditionally been as well. We don't know exactly what she'll be doing in the 2017 film, but we do know that Peter will be doing everything in his power to hide his superhero life from her.
Peter Parker's Classmates And Teachers
School is a huge part of a young person's life, and as a result a large percentage of Spider-Man: Homecoming's cast is populated with characters who are either fellow students or teachers at Peter Parker's Midtown High School. The most significant member of this group is Disney Channel standout Zendaya, who is playing a classmate of our hero's named Michelle and is said to be the female lead. While trailers don't seem to pin her as the main romantic interest - with that role belonging to Laura Harrier's Liz Allan - she does seem to be a friend of Peter's with a funny attitude. As Ned Leeds, actor Jacob Batalon is also set up with a key role in the blockbuster, as he is not only Peter Parker's best friend, but one of the very few who know about his antics as Spider-Man. Other notable students/classmates include Grand Budapest Hotel star Tony Revolori as school bully Flash Thompson and The Nice Guys actress Angourie Rice as Betty Brandt.
The faculty of Midtown High will also apparently play a key role, as there are some very talented actors teaching students at the school. Kenneth Choi (who previously played Howling Commando Jim Morita in Captain America: The First Avenger) is playing Principal Morita (presumably Jim's grandson), and the rest of the staff includes Hannibal Burress, Selenis Leyva, and Martin Starr among others.
Spider-Man: Homecoming's Other Villains
As mentioned earlier, Vulture will be the central antagonist in Spider-Man: Homecoming, but he will have some help from some noteworthy bad guys from Spider-Man comics. Other than Adrian Toomes, one of the other most important villains in the blockbuster will be Phineas Mason a.k.a. The Tinkerer. Set to be played by Orange Is The New Black's Michael Chernus, in the movie he will apparently have a bone to pick with Tony Stark and teams up with Toomes for some technological-based mischief (presumably using the tech that Toomes' company salvaged).
Also playing a notable villain role in Spider-Man: Homecoming will be both Logan Marshall-Green of Prometheus fame and Bookeem Woodbine, who recently earned heaps of critical praise for his turn in the second season of the FX series Fargo. Footage that we've seen from the blockbuster suggest that both actors will be playing the first live-action version of the villain known as Shocker - who famously wears a pair of gauntlets on his wrists that fire concentrated vibrational air blasts. It looks like Woodbine will be playing Herman Schultz - who is Shocker from the comics - while Marshall-Green has been featured in footage wearing the same diamond-pattern yellow that the character is famous for wearing.
Is Spider-Man: Homecoming A Marvel Movie, Or A Sony Movie?
Given that Spider-Man's existence in the Marvel Cinematic Universe is because of a deal that was made between Marvel Studios and Sony Pictures, there are many fans who have wondered if Spider-Man: Homecoming is technically a Marvel movie or a Sony movie. The answer is that it's technically both.
From a creative standpoint, Spider-Man: Homecoming is most definitely a Marvel movie -- not only because it firmly takes place within the Marvel Cinematic Universe, but because it's the comic book company that is calling all of the shots when it comes to casting, the script, villain/narrative choices, and all major decisions on how Spider-Man fits into the larger franchise.
Sony, for their part, will handle things on the business end - including distribution and marketing when Spider-Man: Homecoming is released in theaters. As for the movie's profits, they will be shared... somehow. All you really need to know is that the previous Sony Spider-Man movies don't factor in to what Marvel is doing now, and now Marvel has creative control over how Spidey is used on screen moving forward.
Where Might We See Spider-Man After Spider-Man: Homecoming?
Marvel Studios has surely wanted to bring Spider-Man into the fold for years and years now, and now that he's back, we expect that we should be seeing quite a bit of him. Not only will it be fun to see a legitimately young Peter Parker on the big screen, but the character is now set up to come back year after year as the franchise heads into the future.
We have no idea how many movies Tom Holland will wind up doing as Spider-Man, though we do know where he will be popping up first right after Spider-Man: Homecoming. The British actor has already been working on Joe and Anthony Russo's The Avengers: Infinity War, and will also be a key player in The Avengers 4 as well. As for what happens in 2020 and beyond, really only the studios know for sure, though Holland has recently mentioned that he believes the studios are working on plans for Homecoming 2 and 3 in the coming years.