7 Movies To See If You Loved Baby Driver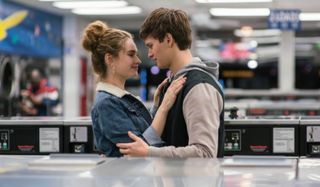 Now that it has spun into theaters and enthralled audiences as much as it did critics, the general consensus is that Baby Driver is the coolest and most entertaining film of the summer and probably the year, so far.
Baby Driver's impressive box office haul suggests that one or two people have gone to see the film on multiple occasions, too. If you're in that camp, then by this point you're probably in the mood to check out some other similarly audacious efforts. Thankfully, CinemaBlend has you covered. So if you're jonesing for complementary content, here are seven films to see if you loved Baby Driver.
The Driver
Edgar Wright has been extremely open about how much of an influence Walter Hill's 1978 crime thriller was to Baby Driver, even admitting as much when I was lucky enough to visit its set last year. It's not just that their titles are similar, though. It's also that The Driver is packed with impressive car chases and action sequences, possesses a relatively simple premise and is led by Ryan O'Neal monosyllabic, but undeniably cool leading character, whose name is never actually revealed. A critical and box office flop upon it original release, The Driver has since garnered a cult status that Baby Driver's success will only enflame.
True Romance
While Edgar Wright has been quick to point to the influence of Quentin Tarantino's debut film Reservoir Dogs on Baby Driver, I personally saw more of True Romance in the film. The most obvious connection between the two is the romances between True Romance's Christian Slate and Patricia Arquette, and Baby Driver's Ansel Elgort and Lily James, both of which are just achingly sweet to see on screen. But the rat-a-tat of Wright's dialogue seems more comparable to Tarantino's in True Romance, while his operatic and heightened direction is more inline with Tony Scott's from the film, too. But just to be safe, you should probably watch Reservoir Dogs, too.
Heat
The comparison between Baby Driver and Heat is based purely on the action sequences. Because if you want to see explosive, violent shootouts handled with an unparalleled silky smoothness, while still fizzling with an energy and momentum that keeps you riveted and permanently on the edge of your seat, then Michael Mann's Heat is simply the perfect film. Other than that, Baby Driver is much more sweet and romantic than the cold-hard cynicism of Heat, while Heat is an hour longer, too. But both are still utterly majestic.
The Usual Suspects
One of the many things that Baby Driver did was make me love fall in love with Kevin Spacey all over again. Obviously I've never doubted his talents, but I never chimed with House Of Cards, and none of roles since the turn of the millennium have stood out to me. That changed with Baby Driver, as he flips from villain to father figure in an instant, and the film is immediately richer for him doing so. It was the kind of turn that we've seen from Kevin Spacey before, most notably in the modern classic The Usual Suspects. Kevin Spacey's performance as Verbal Kint/that other person was deemed so revelatory that it won him the Best Supporting Actor Oscar, too. It's probably about time you reminded yourself why.
Drive
Everything about Drive is just cool. From its swish and pulsating soundtrack, to Nicolas Winding Refn's virtuoso direction as he paints a hypnotic portrait of Los Angeles, all the way through to Ryan Gosling's mesmerizing performance as yet another unnamed driver. Like Edgar Wright, Nicolas Winding Refn was influenced by Walter Hill's The Driver. But both filmmakers use this premise purely as a starting point, and then build their own distinctive worlds and films around it. If Edgar Wright's Baby Driver is the energetic younger brother, then Nicolas Winding Refn's Drive is the cooler, suaver eldest that you immediately recognize as cool.
The Italian Job
Every single British person can immediately recite The Italian Job from their birth. It's just indoctrinated into us. So it was inevitable that Edgar Wright would in some way be influenced by the 1969 caper heist film, which revolves around Michael Caine's Charlie Croker trying to steal $4 million dollars from the center of Turin before escaping to Switzerland. As part of this, Croker and his team partake in one of the coolest car chases in cinema history, which sees them darting around the Italian city in three minis. While The Italian Job has the Mona Lisa of endings, too, it is also just an out and out hoot.
The Killing
Stanley Kubrick's most underrated film, The Killing, is meticulous, slick, audacious, and thoroughly engrossing. The Killing revolves around a gang of thieves attempting to rob $2 million from the money-counting room inside a racetrack, and Stanley Kubrick makes sure that we see every step of the way. It all ticks along to the dulcet tones of Art Gilmore's omnipresent narrator, who keeps us up to date with every minute and second of the crime. With The Killing, Stanley Kubrick took a recognized genre/story and flipped it on its head, in the process creating one of the most original and captivating crime films ever released. Much like Edgar Wright has now done with Baby Driver.
Your Daily Blend of Entertainment News
Your Daily Blend of Entertainment News
Thank you for signing up to CinemaBlend. You will receive a verification email shortly.
There was a problem. Please refresh the page and try again.