7 Questions We Had After Seeing Baby Driver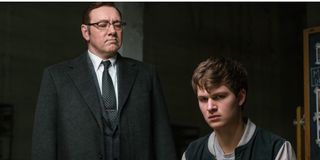 Edgar Wright movies tend to buzz by in a blur, and none faster than his latest, Baby Driver. With its unprecedented success in terms of Wright's career, the film is fast living up to the praise that's been coming down the road for a good portion of this year.
We don't need to try and convince you any more on just why this film is worth seeing, but we can start to discuss some of the lingering questions the film has left in our minds. Out of everything we've seen, from multiple viewings of this film, these are the questions we really want the answers to. Maybe in Baby Driver 2?
Who Taught Baby How To Drive?
As far as the childhood of Baby (actually named Miles) is concerned, we know very few details. We know that Baby was orphaned after the accident that took his parents, and by the age of 9, he was a car boosting prodigy. So who exactly taught Baby to drive, much less steal cars. Considering that Baby's dad seemed like a shady character to begin with, there's a chance that some family on his side, or maybe some past associates, were kind enough to take the young lad in... turning him onto a life of crime.
Did Griff Die? If So, How?
One of the heist members during Baby Driver's first bank job was Jon Bernthal's Griff, the smart ass punk who interrogates Baby about his way of life, and tells him that one day he'll have blood on his hands. As the crew departs with their spoils, he tosses out an off-handed remark about how if the crew never sees him again, he's probably dead. Seeing as this is an Edgar Wright film, there's a good chance he probably is with the ghosts of heist teams past, which leaves us with two questions: how, and why? Well, there's two good theories: either he has the same nasal problem most of Doc's crews do, and he died of a cocaine overdose, or he ran into another job and it wasn't as successful as one with Doc's meticulous planning and Baby's hell-on-wheels driving.
Did Baby's Mom Really Work At The Diner?
At one point during Baby Driver, it's hinted at that Baby's mother worked at the diner in which he frequents. When Debora speaks with another waitress about who he is, all the other waitress can say is that he's been going there since before her time, and that his mother probably worked there. That doesn't sound like a far off hypothesis, as his mother was also an aspiring singer. So naturally, she needed a day job to put food on the table, and waiting tables while waiting for your big break is the oldest story in the book. Sadly, right next to finding someone shady who'll help you get there.
Why Couldn't Doc Go Into The Post Office?
During the pivotal post office job that Kevin Spacey's Doc tries to pull off during the events of Baby Driver, he sends in Baby and his nephew to run recon. Making sure they can keep count of the tellers, customers, and cameras, he has them do the dirty work that should have helped that heist go off without a hitch. But considering how hands on he was with everything else, why couldn't Doc go into the post office and run the lay of the land himself? Our best guess? Doc didn't want to draw undo attention to himself with the authorities, despite the fact that he had some of them on his payroll. Can't be too careful.
Why Did Doc Use Old Crew Members For The Post Office Job?
Doc stresses the fact that in the world of Baby Driver, the titular character is the only one he trusts for all of his jobs. Other than that, he doesn't call the same crew members back for jobs he needs doing. So why would he go against his word, and bring back a cast of all-stars from past heists for the post office gig? Well, there's a chance he wanted to shift his operations into fencing money orders, which could have banked a ton of money over time, thus allowing him to slow down heist operations, if not quit planning them completely. This could have been the "one last job" for Baby to walk away with, seeing as Doc was more protective than possessive of him. And if you're going to pull one last score, you're going to need the best damned crew you've ever worked with, which is what Doc thought he had here.
Will Baby And Joe Ever Reunite?
Before he ends up heading towards his third act endgame, Baby takes the money he had saved, and uses it to put Joe in a proper rest home. Except for his testimony on the stand during Baby's trial, we never see the two reunite on screen, making us wonder if they'll ever see each other again. Surely Joe would visit Baby in jail, provided he has an assistant bring him to wherever Baby is cooling his heels. But, of course, that still leaves us wondering if they'll ever see the sunlight together again, despite Baby's hefty sentence. Which leads to our final question of the movie.
Did Baby Get Out Of Jail In The End, Or Is It A Dream?
This is, without a doubt, the biggest question that Baby Driver has left us with, and it's one we've even asked the cast and director about at length. With the final moments of the film seeing Baby and Debora running off together, in a scene that turns from black and white to color in the course of a couple minutes, we have to wonder if that ending was a fantasy, or if we jumped ahead to Baby's successful release on parole five years later. Considering his previous fantasy was in black and white, with no color dissolve whatsoever, we'd like to think that the end of the film is Baby paying his debt back to society, and riding off into freedom with his lady love.
CinemaBlend's James Bond (expert). Also versed in Large Scale Aggressors, time travel, and Guillermo del Toro. He fights for The User.