One Mistake Annabelle: Creation's Director Says He Made With The Movie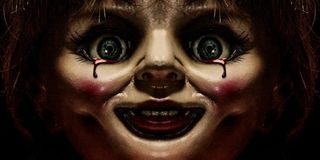 Spoilers if you haven't seen Annabelle: Creation, yet. Feel free to check out one of our other excellent articles.
Annabelle: Creation is a certified hit. Not only did the latest chapter in New Line Cinema's The Conjuring universe win acclaim from audiences and critic alike, the horrific doll's fourth big screen appearance brought in more than $35 million domestically opening weekend, easily taking the number one spot at the box office. However, director David F. Sandberg revealed that Annabelle: Creation does have one moment that he already wishes he could have gotten right: Annabelle's own line of dialogue.
During the movie, the ghostly visage of young Bee Mullins (Samara Lee) is standing at the window of her room. After Bee's sudden, accidental death, the Mullins tried to invite her spirit to live in the Annabelle doll. But when Bee/Annabelle turns to face the protagonist, her face is suddenly a demon and, as she speaks, we know that something has gone very wrong. David F. Sandberg's "I'll swallow your soul" line is actually a nod to Sam Raimi's 1987 Evil Dead 2: Dead By Dawn, wherein the line is repeated over and over by a demon that does battle with leading man Bruce Campbell. Raimi's horror sensibilities are decidedly more slapstick than Sandberg's, with The Three Stooges famously being among Raimi's chief influences, so it's easy to see why the scene was difficult to produce.
Still, David F. Sandberg's comments to his fans over at Reddit probably make a bigger deal out of Annabelle's creepy voice than necessary, especially given how little of her dialogue actually appears in the film. What's more, it's easy to imagine that everyone haunted by Annabelle brings along their own perceptions. Just because she sounds like this once doesn't mean that her voice needs to sound the same ever again.
David F. Sandberg made his feature film debut with last year's Lights Out, also released by Warner Bros. and based on Sandberg's own 2013 short film of the same name. Born and raised in Sweden, Sandberg is a horror film aficionado, but is expected to take the director's chair on the family friendly DC Comics adaptation Shazam!
Annabelle and David F. Sandberg's career trajectorys have a bit in common. The same year the short Lights Out was debuting online, audiences were first meeting the killer doll in James Wan's 2013 The Conjuring. With her own first movie in 2014 and a brief appearance in Wan's The Conjuring 2 in 2016, Annabelle's combined big screen appearances have brought in more than $900 million at the worldwide box office.
Introducing dialogue to traditionally silent characters is no small feat. Cinematic examples stretch back as far as Greta Garbo's famous speaking debut in 1930's Anna Christie all the way to the upcoming Thor: Ragnarok, set to feature full dialogue from Mark Ruffalo's Hulk.
When it comes to Annabelle: Creation specifically, audiences will likely be the final judge of what works and what doesn't. You can catch the film in theaters now, or check out what else is coming with our full premiere schedule.