The Thor: Ragnarok Comic-Con Trailer Lets Hulk Talk Way More Than Before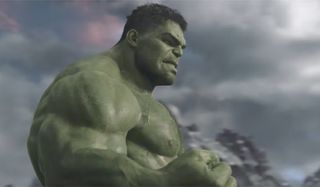 Thor: Ragnarok has given us plenty of footage before, but given it's Comic-Con week, Marvel decided to bust out another trailer for fans. Spoiler alert: it's awesome. The almost two and a half minute clip is a great balance of laughs, action set pieces and character introductions. Also, it lets Hulk talk. Not single words. Like full sentences. Check out this greatness below...
We've known the MCU's Hulk for nearly 10 years, and during that time the Green Goliath has never uttered more than a few words at a time. He lets his fists and roars do the talking. Well from the time he disappeared in Avengers: Age of Ultron to battling in The Grandmaster's gladiator arena, Hulk's vocabulary and speech has improved tremendously, as at the end of this Thor: Ragnarok trailer, he agrees with Thor about them both being hot-headed fools and declares his love for raging fire. Mark Ruffalo teased last year that Hulk's intelligence would start to increase, and sure enough, he's expressing his thoughts clearly now, even if they're childlike.
Looking past Hulk forming full sentences, the Thor: Ragnarok was chock full of action spread across the Nine Realms. With Hela, the Asgardian goddess of death, determined to unleash Ragnarok on the Nine Realms, a hammerless Thor will need some help defeating her, Skurge and her other allies. Once he has his situation on Sakaar straightened out, the God of Thunder will recruit Hulk, Valkyrie and even his treacherous brother Loki to help him prevent these villains from destroying all of existence. All of these "protagonists" (it's hard to use that term for Loki), as well as allies Heimdall and Korg, each gets some time to show off their moves, but once again, Hulk steals the show, from his tussle with the Fenris Wolf to jumping straight at Surtur, one of the mightiest entities in the Marvel universe.
Along with the new trailer, Marvel also dropped a new Thor: Ragnarok poster that's more psychedelic than ever.
In the time since Thor: The Dark World came out, the MCU has expanded its cosmic storytelling with the Guardians of the Galaxy movies, and it's even clearer from this trailer that Thor: Ragnarok is taking some cues from James Gunn's tales. Between Thor having to fight for his life on Sakaar and trying to stop Hela's sinister plan, the third Thor installment looks like it will be the most explosive of the bunch yet. Plus, with February's Black Panther keeping its action strictly on Earth, this will be our last bout of cosmic craziness before Avengers: Infinity War comes out next May. Marvel is wasting no effort trying to end its 2017 with a bang.
Thor: Ragnarok storms into theaters on November 3.
Your Daily Blend of Entertainment News
Connoisseur of Marvel, DC, Star Wars, John Wick, MonsterVerse and Doctor Who lore. He's aware he looks like Harry Potter and Clark Kent.