One Way The Hobbit Prepared Richard Armitage For His Latest Film Pilgrimage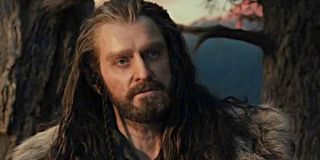 Acting is a cumulative profession. Experience gained on one job can often help a performer get into the right frame of mind for another, and that is something that Richard Armitage seems to understand all too well. During a recent chat about his latest film, Pilgrimage, I asked Armitage if his work on The Hobbit films helped prepare him for his role as Norman crusader Raymond De Merville. As it turns out, the role of Thorin Oakenshield not only helped him physically, it also helped him get into the right mindset to portray his newest sword-wielding badass. Armitage explained:
Although they are decidedly different in terms of style and overall tone, it's not hard to see where Richard Armitage managed to draw his parallels. Both Thorin and Raymond are fanatical in nature, and both come from prideful and brutish clans of lifelong soldiers. While Thorin has a bit more of a heroic and likable side to him throughout The Hobbit films (and he never attempts to disembowel anyone who does not deserve it), portraying one character of a similar mentality seemingly helped inform how Armitage transitioned into the next.
That said, that seems to be where the similarities between Peter Jackson's Hobbit films and Pilgrimage end. The former is a bombastic PG-13 thrill ride that leans headfirst into its sense of adventure, but the latter is a somber, gritty and almost overwhelming journey into a dark time in world history. Medieval battles and sword-based adventures have long captured the imaginations of moviegoers around the world, but these projects showcase two decidedly different sides of that coin.
Pilgrimage centers upon a group of monks in 13th century Ireland on a journey to return a holy relic to Rome. However, along the way they find themselves forced to face off against a series of malevolent forces (some of whom are led by Richard Armitage's Raymond) who want to take the object for their own political gain. As the story progresses, these holy men find their faith tested, and they soon discover that someone in their midst may have a far deadlier set of skills than they ever imagined that could potentially keep them alive. The film also stars Marvel Cinematic Universe veterans Tom Holland and Jon Bernthal and has thus far has been met with a positive reception from critics.
Pilgrimage is now in theaters, as well as Digital HD and VOD formats. Beyond that, make sure to take a look at CinemaBlend's comprehensive movie premiere guide for more information related to the rest of this year's most highly anticipated theatrical debuts!
Originally from Connecticut, Conner grew up in San Diego and graduated from Chapman University in 2014. He now lives in Los Angeles working in and around the entertainment industry and can mostly be found binging horror movies and chugging coffee.
Your Daily Blend of Entertainment News
Thank you for signing up to CinemaBlend. You will receive a verification email shortly.
There was a problem. Please refresh the page and try again.