This Rotten Week: Predicting Birth Of The Dragon And Leap Reviews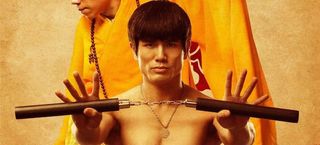 The fall is so close that we can practically feel the cool breezes and see the leaves shaking in anticipation of changing - but before we get there we still have another late summer weekend to slog through. There are only two movies hitting the big screen in wide release this week, as the season really starts to slam on the breaks entertainment-wise. Get ready for Birth of the Dragon and Leap. It's gonna be a Rotten Week!
Just remember, I'm not reviewing these movies, but rather predicting where they'll end up on the Tomatometer. Let's take a look at This Rotten Week has to offer.
I feel like it's been quite a while since we've had a good old fashioned martial arts flick. And after seeing the trailer for Birth of the Dragon, however, it seems we still have some time to wait. The film is a biopic about Bruce Lee's rise in San Francisco as both a martial arts master/teacher and burgeoning Hollywood star. It also looks deathly boring, and nothing like what you'd hope this story would look like on the big screen.
George Nolfi directs in his first time behind the lens since The Adjustment Bureau (72%). I think Birth of the Dragon will fall well short of that one critically. It's coming out at a bad time (end of the summer) for any flick hoping for any real acclaim, and the marketing materials make it look equal parts over-staged and underwhelming. There's likely a great Bruce Lee biopic to be made, but it doesn't look like this is it.
Ah, for halcyon days of yore when we could dream of being simple things in the world like a ballerina or run-of-the-mill inventor. Such was the status quo in 19th century France, when anything was possible for an orphan - at least according to the new animated feature Leap. And I'm willing to give the flick the benefit of the doubt, as it looks to have all the hallmarks of a feel good animated flick without ever feeling like there are any real stakes.
Leap is the English-language version of Ballerina, a French animated film that came out about a year ago overseas. Feelings at the time were solid, as it currently sits at 76% with more than thirty reviews filed. I suspect this one sticks in about the same range, with the story being too vanilla to harbor any true ill-will, but the film not carrying enough gravitas to hit the upper echelon of the Tomatometer.
It was a fantastic week for the Rotten Watch last time around, with one win and one dead-on-the-money prediction - which doesn't happen all that often (to my overall dismay). The Hitman's Bodyguard (Predicted: 39% Actual: 39%) was a bullseye, finishing as just the kind of underwhelming buddy cop, overly crude film it looked like on paper. I'm as a big a Ryan Reynold's fan as anyone, and Sam Jackson can yell "Motherfucker" all day long and I'd probably be on board. And yet this thing just looked like a slog. Critics agreed.
Meanwhile, while it underperformed at the box office, Logan Lucky (Predicted: 97% Actual: 93%) enters the not-short list of great Steven Soderbergh films. He's already worked to establish himself as the king of the ensemble heist film already, and just added to his resume with this finish. The movie scene is just better with this guy around bringing his A-game. It's just a shame more butts weren't in the theater seats.
Next time around we've got a small week with just Tulip Fever going into wide release. It's gonna be a Rotten Week!
Doug began writing for CinemaBlend back when Terminator: The Sarah Connor Chronicles actually existed. Since then he's been writing This Rotten Week, predicting RottenTomatoes scores for movies you don't even remember for the better part of a decade. He can be found re-watching The Office for the infinity time.
Your Daily Blend of Entertainment News
Thank you for signing up to CinemaBlend. You will receive a verification email shortly.
There was a problem. Please refresh the page and try again.