Last Flag Flying Trailer: Richard Linklater's New Movie is Tragic and Inspiring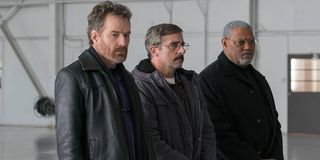 Richard Linklater, the five-time Academy Award nominee responsible for modern classics like Dazed and Confused, Boyhood and the Before Sunrise trilogy, is back. The trailer for his latest movie, Last Flag Flying, has just been released, and it boasts a interesting trio of headlining talent: Steve Carell, Bryan Cranston and Laurence Fishburne. Check it out below!
Last Flag Flying features Steve Carell, Bryan Cranston and Laurence Fishburne as men who once served together in the Marines. When Carell's own Marine son dies in combat, he reaches out to his old, but long out of touch, military buddies, both of whom wind up joining him for a journey cross country to bury his child. Along the way, it looks like the trio will ride the entire emotional spectrum with funny bits of a reminiscence and a hard look at the inevitability of human mortality.
The dramatic setup for Last Flag Flying should be particularly resonant for anyone from a military family, and Richard Linklater has assembled a group of stars that should have no problem going from laughter to tears. Recently, Boyhood earned Patricia Arquette an Academy Award for Best Supporting Actress and it's not hard to imagine Steve Carell, Bryan Cranston and/or Laurence Fishburne delivering similarly award-worthy performances with these characters.
Richard Linklater's recent Everybody Wants Some!! also helped pave the way for Last Flag Flying. The upcoming movie is itself a sort of "spiritual sequel," as Linklater liked to refer to his 2016 film's thematic connections to Dazed and Confused. Last Flag Flying is based on the novel of the same name by Darryl Ponicsan (who co-wrote the adaptation with Linklater) and was published as a 2005 sequel to his 1970 bestseller The Last Detail.
As cinephiles are well aware, The Last Detail was adapted in 1973 with an acclaimed take by director Hal Ashby (Being There, Harold and Maude). The film earned three Oscar nominations itself, including a Best Actor in a Leading Role nod for star Jack Nicholson and his performance as Marine Guard Billy "Badass" Buddusky. Although the names in the movie version don't quite sync with the original film, it's easy to see how Steve Carell's Richard "Doc" Shepherd is a translation of Randy Quaid's Larry Meadows. Similarly, Otis Young's Richard "Mule" Mulhall becomes Laurence Fishburne's Mueller. That leaves Bryan Cranston in the Buddusky with his Sal Nealon. (Sal, by the way, was Jack Kerouac's own pseudonym in On the Road. He would similarly shift names from book to book while keeping it clear all the while which characters were meant to be the same.)
Set against the bittersweet lyrics of Neil Young's "Old Man," the Last Flag Flying trailer may seem guilty of a number of road trip clichés, but it's probably worth trusting Linklater and such fun, talented combination of leading men. What's more, Amazon Studios itself has a pretty decent track record as of late. They're responsible for recent hits like The Big Sick and Manchester By the Sea, while simultaneously releasing new work from filmmakers like Woody Allen, Park Chan-wook and Jim Jarmusch.
Last Flag Flying hits select theaters on November 3, 2017.
Your Daily Blend of Entertainment News
Thank you for signing up to CinemaBlend. You will receive a verification email shortly.
There was a problem. Please refresh the page and try again.