All The Directing Changes Star Wars Recently Went Through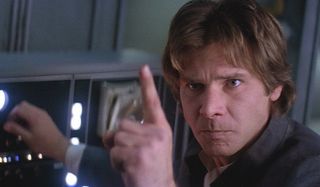 When Disney acquired Lucasfilm back in 2012, it reignited the Star Wars franchise. Sure The Clone Wars TV series, books, video games and more were keeping the galaxy far, far away alive, but starting with The Force Awakens in late 2015, the movie series was relaunched a decade after Revenge of the Sith concluded the Prequel Trilogy. So far Disney's track record with the Star Wars franchise on the silver screen side has been solid, with both The Force Awakens and Rogue One: A Star Wars Story performing excellently both critically and commercially. However, that doesn't mean there haven't been problems behind the scenes during this new era.
Over the last few years, the Star Wars franchise has faced several directing changes, most recently with Jurassic World's Colin Trevorrow leaving Episode IX. With this fresh development, we've decided to go through why each of these developments occurred, and in some cases, how they were resolved.
Rogue One: A Star Wars Story
During Rogue One: A Star Wars Story's principal photography, Godzilla director Gareth Edwards was the one calling the shots behind the camera. But during the first Anthology spinoff's notorious reshoots, Tony Gilroy of Michael Clayton and The Bourne Legacy fame was brought in to oversee the work. Gilroy was initially hired to help write additional scenes, but after Lucasfilm was reportedly unsatisfied with Edwards' first cut of the movie, the studio tasked Gilroy with making further changes, especially to the climactic conflict on Scarif and the ending. He also teamed up with Edwards in the editing bay to put the final cut together. Gilroy is credited as one of Rogue One's screenwriters, but make no mistake, on the directorial side of things, he was an integral figure. While there was certainly a lot of controversy over how much the Rogue One reshoots would alter the story, Gilroy's work, combined with what Edwards originally shot, paid off in the end.
The Boba Fett Movie
A Boba Fett movie hasn't been officially announced by Lucasfilm or Disney, but at one point, it appeared like it was going to be one of the franchise's big releases. Back in 2014, Josh Trank, who at the time was best known for Chronicle, was revealed to be directing a movie for the Star Wars franchise, which is believed to have been the bounty hunter's solo feature. This project reportedly made it far enough in the creative process that a special teaser was going to be shown at the 2015 Star Wars Celebration. However, in May 2015, Trank exited the project, publicly saying that he made the personal decision to go on a different path, while unofficially, it was reported that his behavior while shooting the Fantastic Four reboot played a role in his dismissal. Regardless, since Trank's departure, the Boba Fett movie has remained in Star Wars' version of development hell, and with the Obi-Wan Kenobi movie looking like it will take the 2020 release date, it may be a while until Jango Fett's "son" is able to shine on his own.
The Han Solo Movie
This is without a doubt the most shocking directing change that the Star Wars franchise has gone through. For two years, The LEGO Movie duo Phil Lord and Chris Miller were steadily working on the young Han Solo movie, and publicly it seemed like everything was fine. But out of nowhere in late June, when the spinoff was approximately 75% of the way through principal photography, it was announced that Lord and Miller were leaving due to "different creative visions." Later reports indicated that Lord and Miller were fired because they butted heads with Lucasfilm president Kathleen Kennedy and longtime Star Wars writer Lawrence Kasdan, specifically over their approach to the material. Ron Howard was quickly recruited to get the proverbial house in order, and from what the director's posted on social media so far, production seems to be moving along steadily. That said, similar to what Rogue One went through, it will be interesting to see how much of Lord and Miller's footage will be used in the final product alongside Howard's footage, not to mention how the directorial crediting situation will be handled.
Star Wars: Episode IX
Finally, we come to today's news that Colin Trevorrow will no longer direct Star Wars: Episode IX. Attached to the final installment of the new sequel trilogy for over two years, we have the usual "creative differences" explanation for why Trevorrow left, though certain reports point to script issues and the relationship between Trevorrow and Kathleen Kennedy growing "unmanageable" as specific reasons why he exited. This update also come several months after his latest movie, The Book of Henry, was met with largely negative reviews. Wonder writer Jack Thorne was hired last month to pen the newest Episode IX draft, but it's unclear how long we'll have to wait until Trevorrow's replacement is announced. Fortunately for the Star Wars franchise, since Episode IX isn't scheduled to begin filming until early next year, there's still plenty of time for the movie's creative team to pick up the pieces and keep moving forward on time.
Your Daily Blend of Entertainment News
Connoisseur of Marvel, DC, Star Wars, John Wick, MonsterVerse and Doctor Who lore. He's aware he looks like Harry Potter and Clark Kent.